Projects

| | |
| --- | --- |
| | This Cadillac Seville has subtle modifications to enhance performance, handling, and safety. Bill is a "hands on" owner who was intimately involved designing the changes and locating vendors. Fowler Automotive provided technical guidance then executed the overall plan. The plan included exchange of the 4.2 liter for a modified power plant and overhaul of the drive train. I retuned the suspension to suit slightly wider wheels/tires and handcrafted a modified intake and exhaust system. |
Hi power and auxiliary lighting was added by Bill. The car was refinished and detailed by Cadillac before returning to daily service. Now; more than 50,000 miles later Bill is still excited when he drives his car. It is smooth, quick, and quiet.

Jim had wanted a replica MG kit car for a number of years. Then his son located one in Utah. The vehicle was shipped to California before a thorough inspection. I discovered this MG had a worn Chevette drive train and suspension. Fowler Automotive repaired the front suspension and revised the rear suspension. Various items in the drive train were reworked. Installing a California legal emission system was needed for certification. A fuel cell with rollover protection was installed.
| | |
| --- | --- |
| Jim sent the car to a paint shop for more traditional coloring; dark green and black fenders with a tan interior. Jim, as his time allows, is a "hands on" owner and has fabricated some of the finish trim, and logos. After many months the roadster went back into service on weekends or special occasions in 1997. Because of Jim's changing interests the car has been donated to Habitats for Humanity. | |

This is a 1974 Jensen Interceptor. It went through several owners until coming into Bob's ownership. Bob likes British cars and has Jaguar and Aston Martin cars in his stable. This one had been disassembled mechanically over a few years time and the parts scattered into various storage locations; both in and outdoors .... Some were left here at my shop by the former owner; who started out to repair a damaged and overheating engine, which is how I met Bob. He wanted to find all the parts and see if there was a possibility of putting a vehicle back together. Well; with enough work anything is possible. Bob took about a year to gather things up and do preliminary cleaning and evaluation. I started on the Chrysler 440 Cid engine and finished it about 8 or 9 months later. I changed it to Keith Black pistons and quench style combustion chambers, installed a revised camshaft from Hughes Engines ( http://www.hughesengines.com/ ) and complementary valve train parts from Competition Cams. We lightened the rods and crank as part of generally rebuilding and updating the already stout power plant. MoPar had a great manifold and a few other items we needed that took forever to special order but were worth the wait. Meanwhile Bob was arranging for the transmission and other accessories to be rebuilt and doing interior and body chores. A shop in Los Gatos installed the engine and did a lot of under hood head scratching and parts locating to produce a "drivable under its own power" chassis. Then we got serious about assembling a car. I did some under hood detailing, built an oversize mandrel bent exhaust system and re-plumbed the fuel and emission systems. Bob continued on the interior and accessories until he was ready to drive the car to a specialty shop in Washington state to have the wooden dash and console veneer replaced and the air conditioning restored. He returned a few weeks later a happy man. This car gives a new meaning to the concept of high speed cruising. Effortless, understated, solid, comfortable for hours behind the wheel driving is what this car is all about. It can also chirp the tires into second gear and hit 80 mph in a city block which is a bit mind boggling for a vehicle that weights nearly as much as a Chevrolet Suburban. It turned in a bit better than 17 mpg on the Washington run. Now Bob is looking for a few bits of trim, a great radio, and more open roads.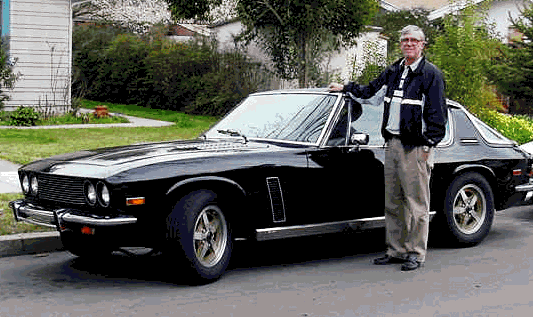 These are a pair of Studebaker vehicles. The one on the left is Annette's Lark sedan and the truck is Hans '64 half ton. Both have V-8 power and have been driven almost daily for several decades. I started working for Hans and his wife when he was too busy or needed professional help repairing the Lark. Beginning in 1969 or '70 and continuing to the present I have rebuilt it's engine in 1975 and again in 1996. The Pickup came into Hans garage about 1968 and I did a few things for him to it over the years eventually rebuilding the mechanics of the vehicle and engine in 1997. Both engines required odd sized parts here and there and conversion for unleaded fuel. Both have a bit more compression than stock and a bit of head porting. A local shop, Dunn's Autobody, reworked the truck's body, floor panels, and paint. Hans has done most of his own service work over the years and really loves these cars. They are both quite original. Between them they represent nearly a half million miles of driving and customer satisfaction.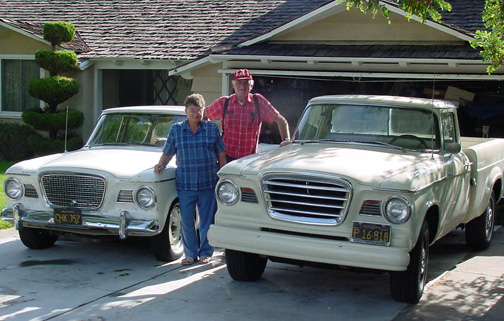 I guess everyone who has been working on cars for awhile has done a few Corvettes. This 1965 Convertible is one of several I take care of and has given a lot of pleasure to Don who bought it in 1966. I started servicing it in 1969. He drives it almost every day, and has steadfastly refused to give it to his adult children. About five years ago we figured he had more than 600,000 miles on the odometer. His car started out as a 365 HP 327 with a 4 speed but that engine assembly was swapped out and taken as a "core" on it's first rebuild by another shop a long time ago. Presently it is powered by a 327 of about 300 HP using World S/R heads and a mild GM cam I built for him in 1987. It was balanced, blueprinted, and the compression height carefully set. Don has worn out 3 or 4 engines, had the transmission and rear end rebuilt twice and the suspension overhauled more or less 4 times. I've put an interior in it a couple of times and done most of the mechanical repairs of any consequence except the differential and trailing arms. Herlinger Corvette Repair takes care of those sub assemblies. Several shops have done general maintenance or body repairs and paint over the years. In the last ten years we have started to put the car back to a more "original" configuration. Little things that have gotten lost or broken are becoming more important and the correctness of replacement parts is being given more effort. But make no mistake, this is no garage queen. Any day Don wants to see people or do business he twists the key and the pipes rumble to life. His car is a driver and I bet Don will keep it that way.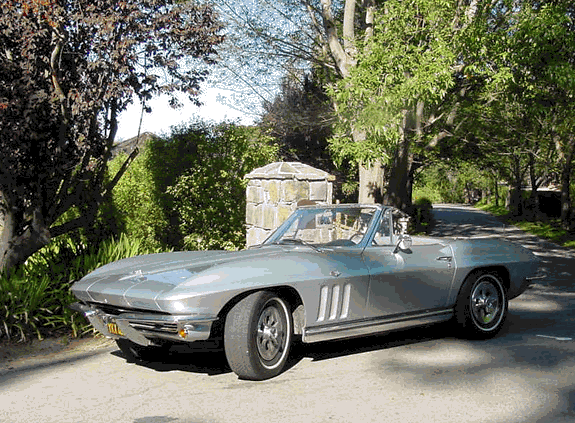 Daryl's BMW story. In 2003 my son bought a 325e that had some body kit parts and a chipped engine. We worked on it as his finances allowed for three years, adding side skirts, various accessories and "bolt on" or shop made performance parts we fabricated here. Items like seat mounts for Sparco racing seats which allow use of stock seat belts and adjusters take time. We also made a stainless steel front spoiler lip and floating bumper mount system to allow this lowered vehicle to cross speed bumps without major damage when scraping the ground. PIA lights and brake cooling air intake boxes were built into the bumper with room and thoughts of a huge turbo inter cooler needed for a planed engine swap as well.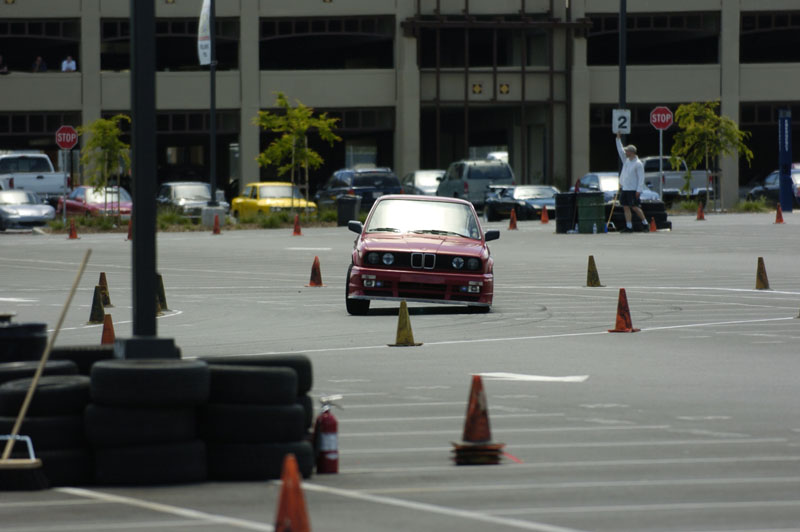 European headlights were a thoughtful project as the cars wiring needed several diodes added to various circuits to prevent cross feeds between high, low, driving and turn indicator lights. He was well on his way to creating a track car when he hit a tree "checking tire clearance" after an M series five lug wheel / Koni suspension conversion using E39 5 series sport wheels with 235-45R 17 tires. This required moving the foot well sheet metal back and rolling his fender lips, modifying his brake cooling ducts for E30 M3 brakes, and hand made brake backing plates. Hardened bushing were also needed to keep suspension component deflection under control. The car had great grip and handling but accidents happen real fast when cornering speeds start going up and road hazards stay the same width.... which is why I generally don't do a lot of suspension work for young street racers. I think a "track car" should be on the track and a driver should go to a real drivers school sooner rather than later.....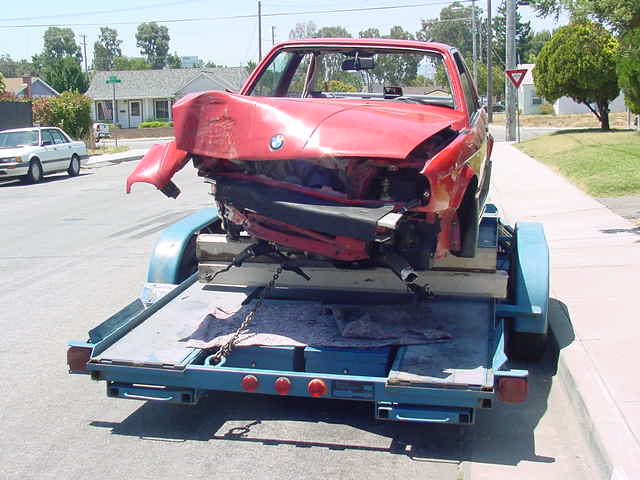 Fortunately his S52 3.2 liter engine / transmission was still in our machine shop undergoing air flow testing so Dema Elgin could make special cams. Almost all his upgraded suspension and drive line components were saved for the next chassis. All the Rieger body parts were destroyed except for the rear bumper and M tech 2 trunk lid and spoiler. The car's engine and transmission were so jammed in the chassis we didn't even try to cut them out. Fortunately no one was hurt and perhaps a lesson was learned about street racing and losing a nice car in about three uncontrolled seconds. The tree survived just fine and will be quite a few feet taller by the time Daryl can put another nicely built BMW into service.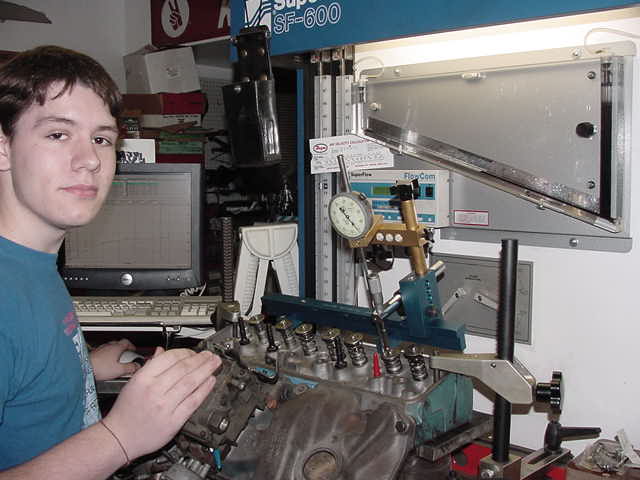 Daryl has quite a few BMW 325 interior parts for sale and some front and rear glass, stock wheels with mounted tires. He can be contacted at Blackcoat knight@hotmail.com In the meantime we have an S52 engine to build over the next few years.

It is early 2008 and a progress update for the last couple of years is noteworthy. Daryl worked hard and bought an '89 M3 to replace his 325. I thought it's engine sounded thrashy and in serious need of lash adjustment. He thought it was fine, had a plan to install his S52 engine, so didn't think engine condition was important. Daryl designed, fabricated, and installed a custom interior based around Sparco Seats and red / black colors. The area Sparco Rep liked it enough he wanted to have duplicates made for commercial sale but we declined because of the labor involved. He changed the wheels and tires, installed a short shifter then we took it to Thunder Hill race track for a practice day session. We had quite a fun day learning the car and track at the same time then got a black flag for smoke and a ratty running on three cylinders sounding engine in the afternoon session. It turned out we either burnt/detonated #3 piston or bought an engine with a damaged piston that failed at the track. Fortunately we were able to do nearly all the machine work, modifications, and rebuilding in our shop. However it was still a long and expensive engine rebuild because his head needed all new parts including seats and guides that were installed in the casting after we performed considerable welding to the head and #3 chamber.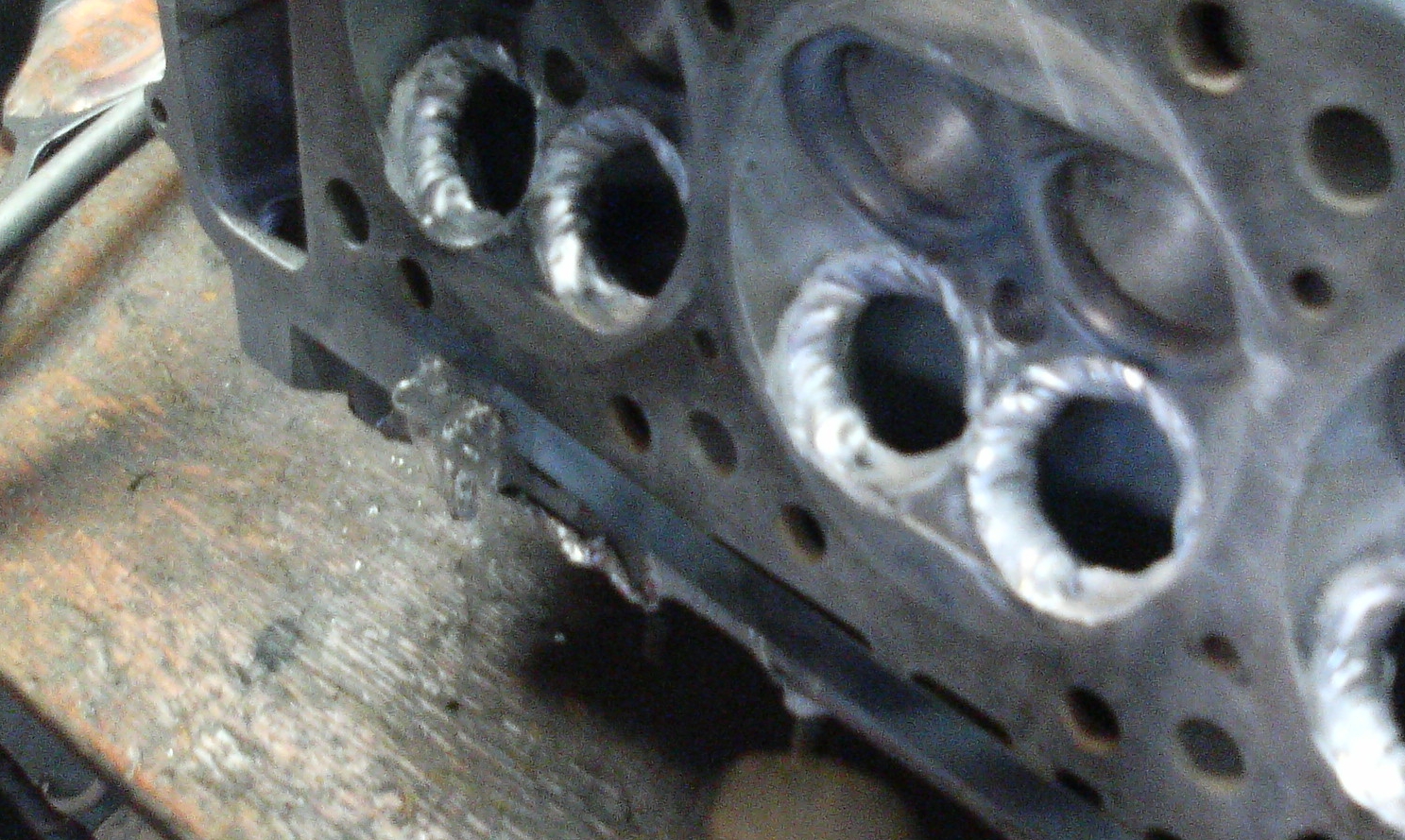 We figured out a valve and spring combination that was better than stock while flow testing and porting the head.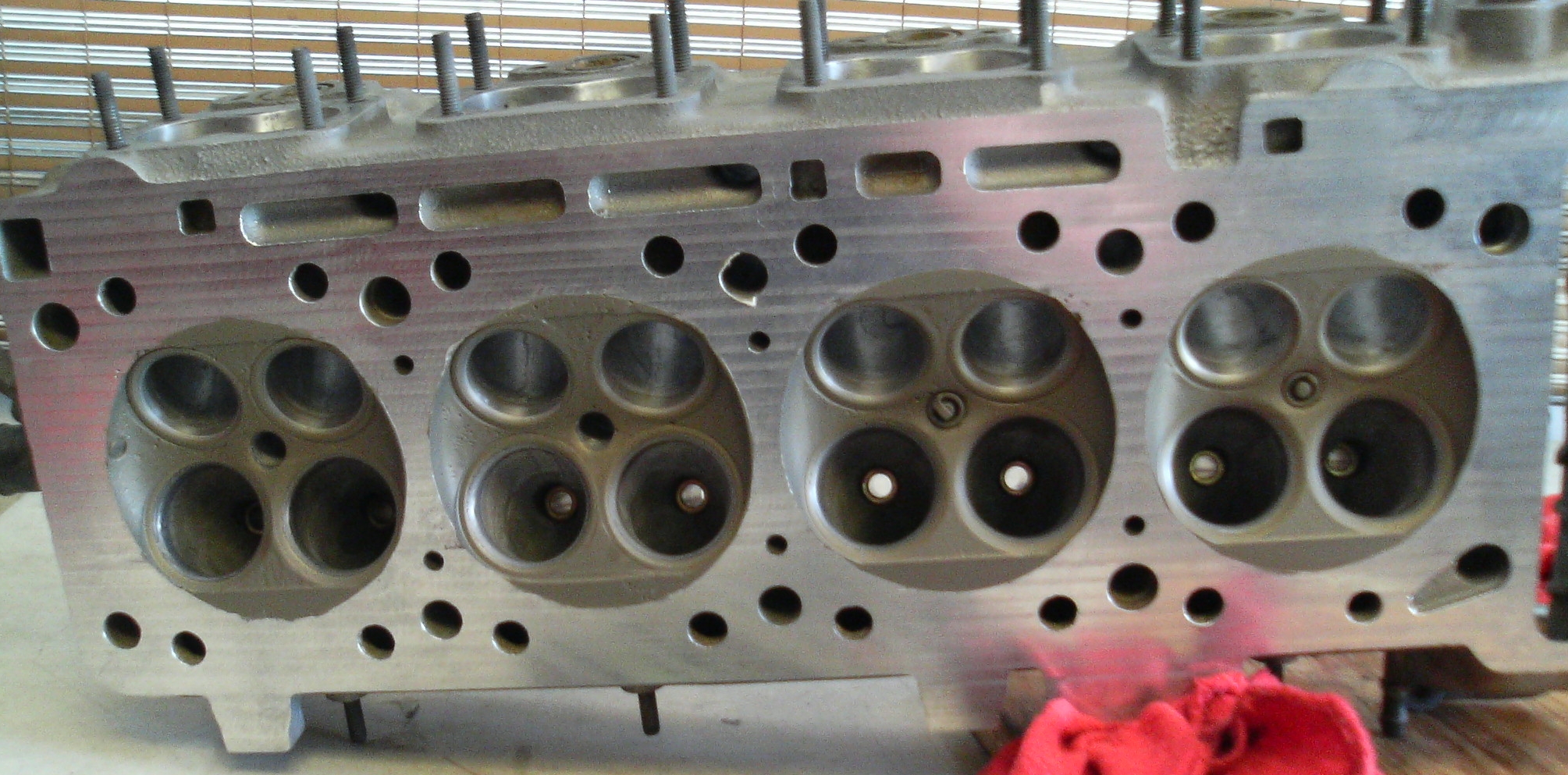 Custom pistons .003 oversize were jointly designed by ourselves and Brian Nutter at Wiseco to take advantage of a thin medium tension ring pack and light weight forging mold used by VW in their formula one engines. It also enabled "saving" nearly perfect cylinder bores by just very modest honing. Internal thermal barrier coating was sent out to Replica Machina and external powder coating was sent to Spray Technology. A custom gauge set was installed in the area below his radio indicating oil and fuel pressure. We completed his car just in time for Daryl to shower and grab a fresh shirt before driving to Beamer Feast 2007. Since then Daryl figured out an extensive electronics entertainment, communication, GPS upgrade then gathered and installed the components in a hand made custom system without detracting from the M3's original dashboard or interior design significantly. He's also driven about 15,000 miles so at his last oil change we switched the engine to Mobile I oil in preparation for another Thunder Hill practice session. His story takes a twist here because we'd bought a '96 328 sports coupe as a project car a few month prior. It had been in a minor front end collision and taken apart at a body shop. Then the estimate got out of control as the owner's insurance company declined coverage. It needed new front sheet metal, some general repairs other shops had missed or done incorrectly and normal service work. However all the work was just nuts and bolts after we had a few parts painted. Even fixing the ABS pump wasn't too bad. The hard part was getting little hardware and trim totally correct.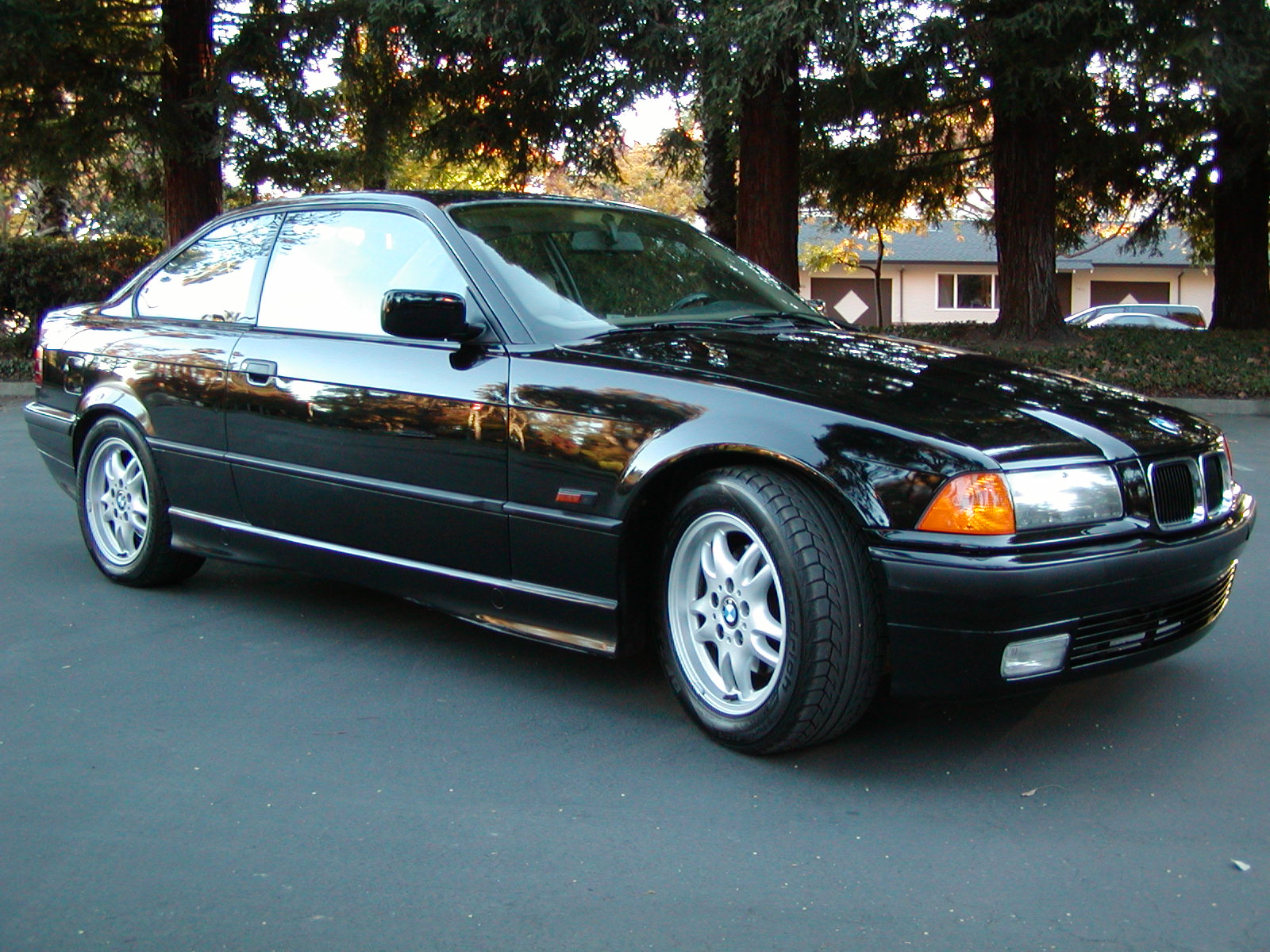 Once finished it looked like new and I took it on a a 1000 mile test drive through central California and really fell in love with the car. Daryl wanted to make it into a track car but I protested "ruining" such a great vehicle so we compromised and sold it thinking we'd get a scrappy '95-'97 M3 we could modify.
Instead we found a beautiful red Dinan equipped M3 that needed common cooling and emission system repairs and some typical maintenance work. This car is really fun so we've gathered up most of a Dinan supercharger system and intend to bring it up to "stage three" specification from it's current "stage two" configuration. Midway through repairs I took it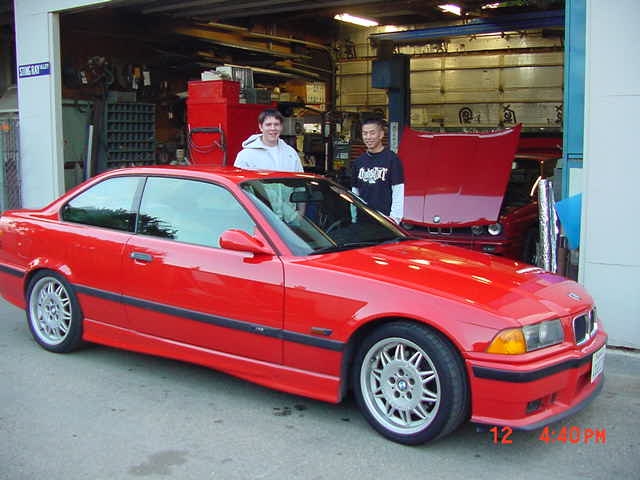 on a similar test drive which was absolutely trouble free (except for getting stopped four times in the first 50 miles. No tickets were issued, just the "fast red car" syndrome in action so I parked it when I got home to wait for emission control parts to be purchased and registration transfered. In February 2008 we took both M3's to Thunder Hill race track. Both performed flawlessly and gave us more than 150 laps each of practice time at speed. We did discover the '89 experiences fuel pressure drops just after hard turns when less than 3/4 full of fuel. We ran 103 octane fuel so detonation never occurred to damage the new engine. So Daryl's BMW story has become a shared experience with me, his Dad, and we're both having a great time servicing, modifying, and driving these personalized M3's. We're thinking about a different fuel pick up for the '89 and still looking for a track car for the S52 engine ......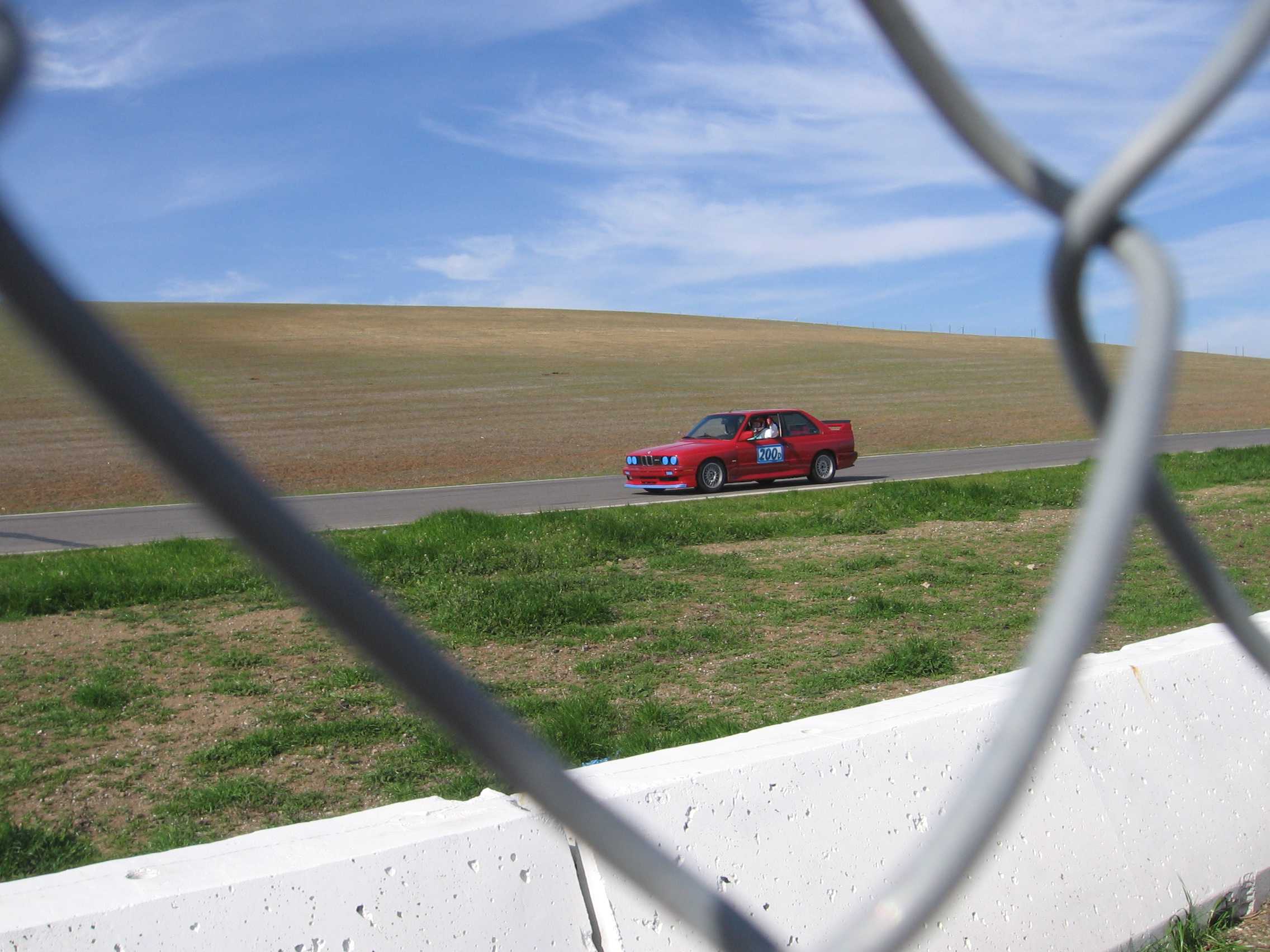 Since our February 2008 outing we've been back to Thunderhill twice with Ron Wilcox and his group from Linear Technology. Both BMW's continue to run well and have required just normal maintenance procedures. The '95 M3 is still having trouble passing it's emission test though. Very vexing because several of the brightest smog technicians in the area have worked it over without improvement despite correction of several issues. For a car to be running so well at speed, and running so well on the street delivering excellent fuel economy and power, it should be within emission specification. This photo is in Willows CA of "our camp" of red cars at a motel near the track where we assembled prior to starting our practice session in May 2009. The Cobra replca belongs to Dan, a friend from High School days. The Ford Probe belongs to Paul, a friend from Vita Benifets Group and our two BMW M3's made a good showing for Fowler Automotive.

We have a fun group at the track and chase each other around all day. I drove the 95 M3 a bot over 240 miles and Daryl got in over 300 at racing speed. About 5 or 6 other BMW's 3 and 5 series cars were there along with Porsch, Corvette, several very fast Asian makes and a couple of AMG Mercedes mixed with some dedicated race cars. This event is open to any customers of Fowler Automotive who will drive responsibily and want to improve their car handling skills. Just let me know and registration materials will be provided through Ron Wilcox who heads up the event generally. Our next session will be in December 2009.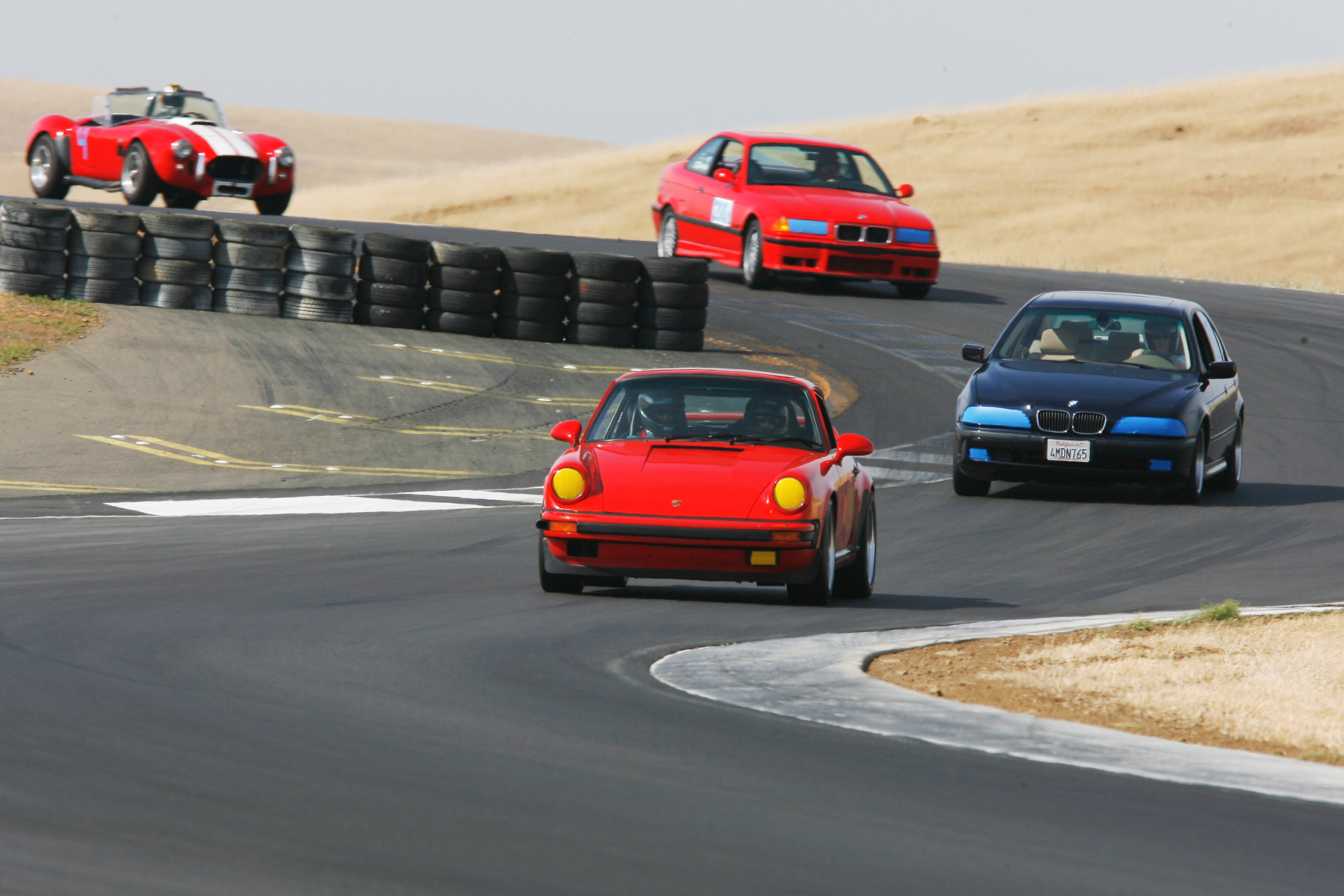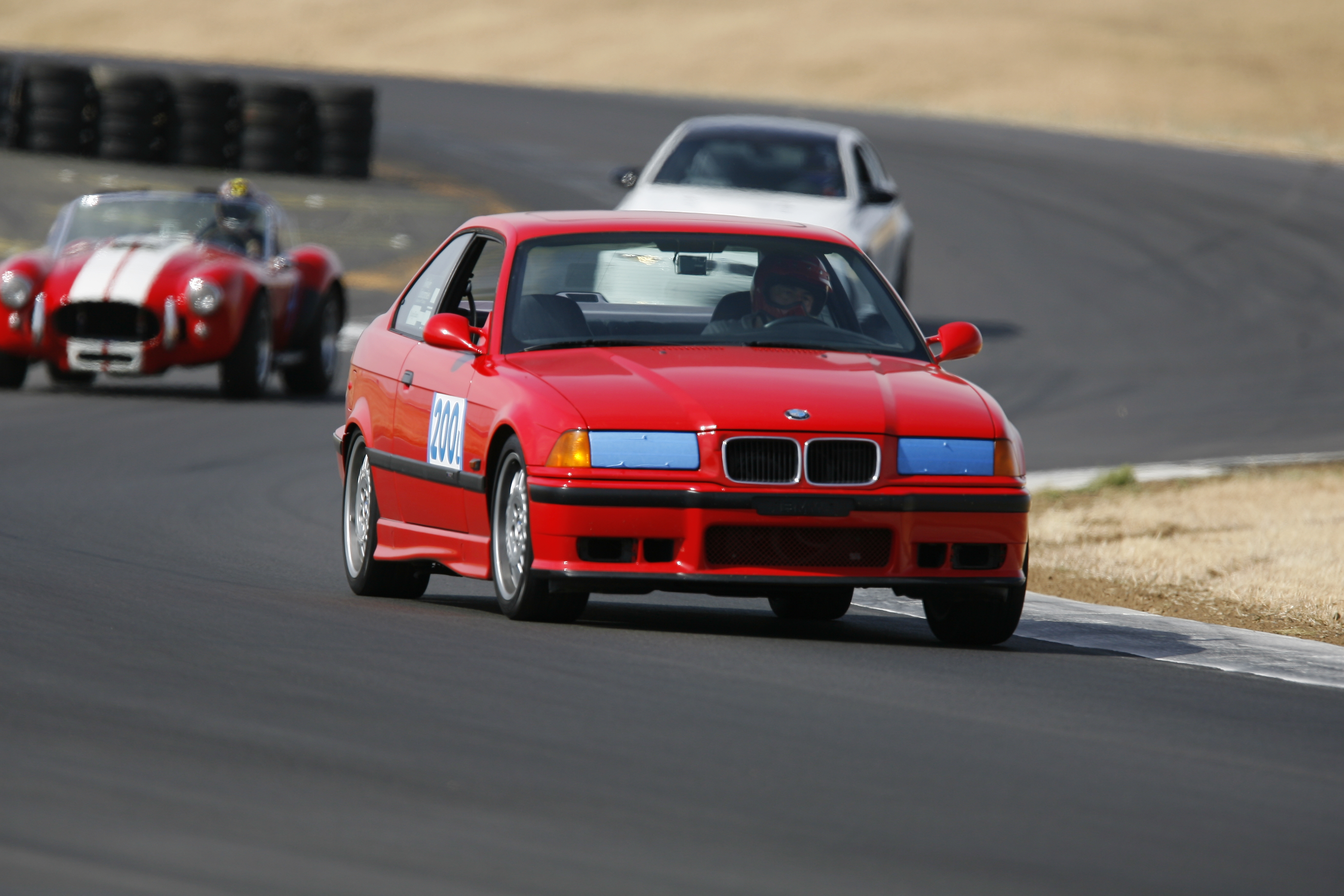 .

1965 Pontiac GTO. This is a car I wish I had more photos of as it evolved. I bought it the summer I graduated from High School. It was a bone stock 389Cid 4bbl, 4 speed convertible in perfect shape so I immediately started to change it around for better road performance. Somehow I missed the fact it would make a better Drag Racer than Road Race vehicle because my friends were running Corvettes', Camaros', and a Boss 302 Mustang in SCCA production modified classes in the early 1970's.

I lowered the car, tried many different shock, spring, sway bar combinations, performed various engine modifications, made a front disc brake conversion and boxed my rear control arms and many other modifications popular at the time including headers and what amounted to 4 inch open exhaust pipes.. I learned a lot about what works and what doesn't.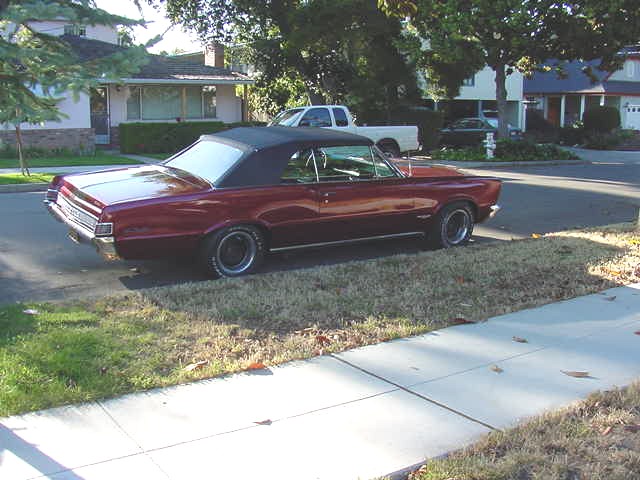 I eventually got it to run about one second behind my friends Boss 302 (who had factory backing from Ford) and about two seconds behind the Corvettes on the same track on the same day. Cooling was an issue so I cut the radiator support to install OEM heavy duty cooling sheet metal to hold an optional radiator core. I also added an engine oil cooler from the aircraft shop with aircraft hose assemblies, a common source for those items in the early 70's. Corvette rims and secondhand Goodyear Blue Streak racing tires were my only wheel options because of a "college kid" and "working nights" budget.
I started to "restore" my GTO in the early 1980's after modifying it through the '70's. It was originally light blue which I had changed to Corvette racing green with a silver stripe. I changed color again to Corvette maroon with a gold stripe when the C-3's came out. A friend did minor body work and disassembled the car. A couple of years later we had a professional shoot paint in a rented booth and we put it back together again. Then I stored it for about 15 years until my children were grown. A few parts got "robbed" for my '71 Chevelle stock car along the way, but a 12 bolt rear end with a Moroso brute strength carrier was "donated" back so I guess it worked out about even. I wanted to install a new interior, refinish a bunch of chrome parts, and fix my radio and rally gauges but the roll bar was a bigger problem. I'd discarded my back seat because it interfered. I eventually found another one, but it took almost another 10 years to find time to modify it so the roll bar and seat back both would fit together.
I know a lot more about fabrication now than when I first built my GTO so I cut out and rebuilt the roll bar and heavily modified my seat frames. I put back sound deadening material I'd thrown away and got new padding for everything, including under the dashboard.While I'm not an interior specialist I did get a very nice result by doing this job one part at a time. When the frames were ready for upholstery I had Bob at Mountain View Auto Interior install OEM front covers (he's done my convertible tops for years and "normal" work) and took my car to my cousins shop in Ukiah, CA. for the custom stuff. We worked together to modify OEM style rear covers and make roll bar padding sleeves. It only took a couple of days to finish assembling the interior from that point.
Additional gauges are fuel pressure, oil temperature, and a factory vacuum gauge on the console.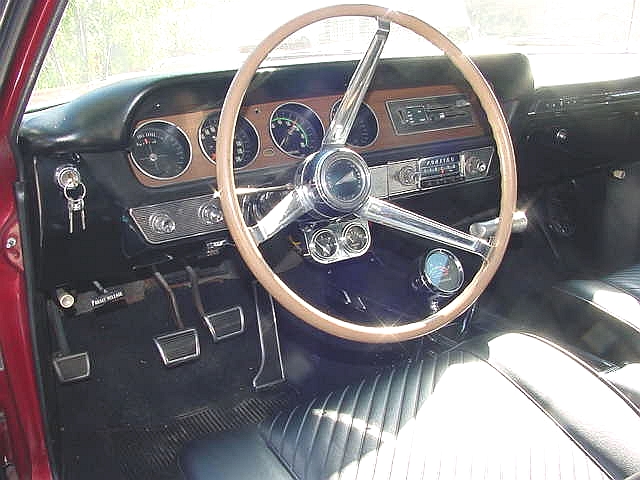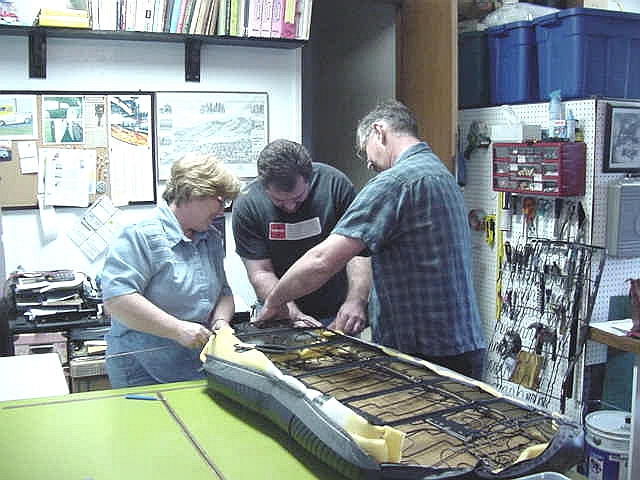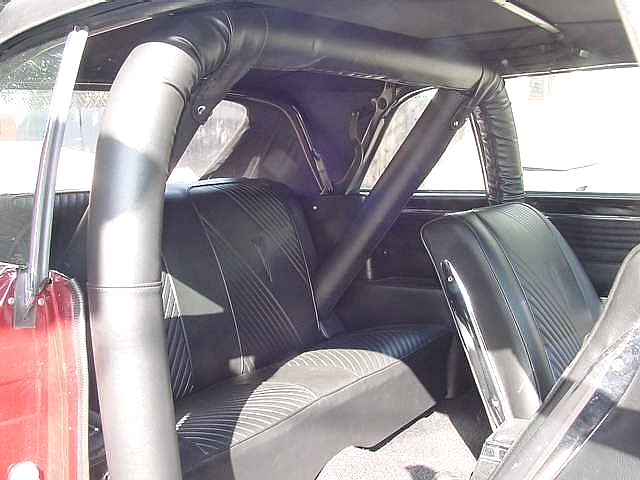 Future plans for my GTO are to freshen the engine (still a match number car) before I break it, re-chrome my bumpers and some trim, and update to some modern tires. A quiet exhaust system and 3.50 something gears instead of 4.11's should put me back on the street almost like it was 30 years ago. On the other hand I'd like to build a 500+ cid Big Chief engine and get some slicks. It might be fun. Perhaps I'd find out what I missed......

1965 El Camino This is Hank's vehicle. I believe he bought it five or six years ago, after seeing it at a car show, from a fellow in the East Bay part of the San Francisco, CA area. Hank likes cars generally and has a taste for older British models but wanted this El Camino mostly for fun while having some utility for doing short distance hauling jobs. The El Camino is an original 327 cid 350 hp car with a power glide and got a 3.36 ratio 12 bolt limited slip rear end at some point. It is an original P/S, P/B, A/C car. It was a "restored car" meaning repaired and modified but still having the correct engine and transmission and suited for daily use. It had a few rough edges I fixed for him over a couple of years time. The power glide column shifter needed a total rebuild. The disc brake conversion was plumbed incorrectly and pulled left whenever the brakes were applied. His drive shaft was bent and various leaks and electrical issues needed correction but over all it was a nice car to have bought.
The engine had been rebuilt but it didn't last too long before spinning a rod bearing and then started to lock up. We discussed under hood repairs and ended up taking it all apart for a second "high performance" rebuild. To preserve the original numbers and date codes I saved his block and heads. Because the 327 cid crank was shot I had a 350 cid crank ground to fit the small journal block main bearings. Then I lightened, profiled, and reduced it's rotating diameter before sending it out for nitrite hardening and finish grinding. I switched rods and pistons to create a light weight 350 cid engine with a windage tray, crank scraper, and anti slosh baffles all contained within a "stock" oil pan. I ported the "Camel Hump" small valve heads a lot, then worked Hank's intake manifold, spacer block combination, and air cleaner for maximum flow.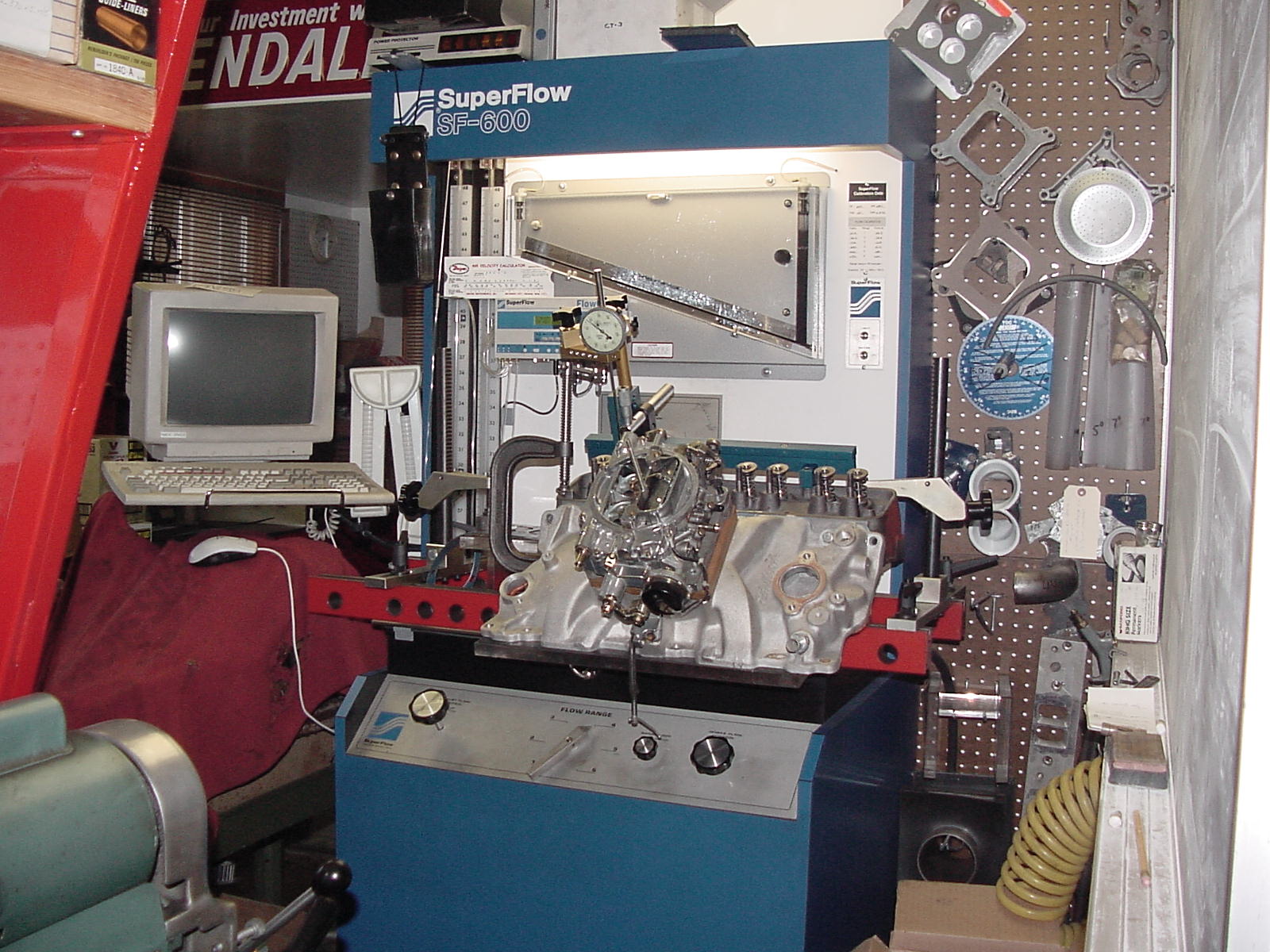 I wanted this engine to produce all the torque it could to overcome Hank's tall differential gears and two speed transmission, but felt it couldn't stand the very high compression ratio and pressures produced by his small combustion chambers. So I used flat top pistons and had Dema Elgin grind a special cam with delayed intake valve closing to reduce dynamic compression pressures. Deck height, gasket thickness, quench clearance and hand fit ring end gaps were all carefully preplanned. High quality timing components and roller high ratio rockers with poly locks, screw in studs and guide plates were all reworked to fit under stock sheet metal covers. Bill Long of Bill's Transmission Service, Sacramento, CA. and I rebuilt Hank's power glide and added a mild shift kit. I rebuilt everything else under the hood as well, nothing fancy, just clean craftsmanship with mostly stock parts. In the end the engines compression ratio of 10.25 to one was just too much for pump gas once the heads started flowing air, even at modest throttle openings. The engine's timing had to be retarded 15 degrees and the idle speed became unstable.Because the fuel situation wasn't getting any better over the last year we recently switched the car to a mix of race gas and premium fuel to obtain an octane rating above 100. What a difference. With essentially a stock ignition advance curve it pulls really hard from start to noticeably more than a maximum top indicated120 mph. It is just the ticket for short distance hauling now.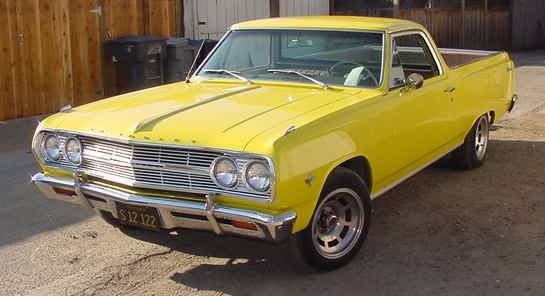 1967 Corvette. There must be 10,000 of these mid year Corvettes still in service but few drivers enjoy their cars more than Jim. He bought it new in 1967 and has no intension of selling it now. It started out as a white 327/350 4 speed AM/FM radio car. Jim "lost" the first engine pretty quick, still under "warranty" if I remember correctly, and a second engine a few years later. I started working on it for the third engine job in 1982. Like I said, Jim likes his corvette and part of that love is hearing the exhaust at high RPM. Much like a stereo, this car is turned on and then turned up. The tachometer is there as a guideline really, not a firm governor, so blasting through the gears and winding out second around town is pretty much normal procedure. Jim's car has been banged up everywhere, fixed all over, and repainted blue. We're keeping it straight and aligned where it needs to be but elected not to re-body the frame when I fixed that a few years back. Jim's had several suspension overhauls of which I've done the last two and the usual transmission and drive shaft work. I replaced the interior and had the dash cluster restored a couple of years ago. I'm surprised the 350 cid /350 hp cam engine I built from mostly stock parts has lasted this long. I'd never ridden with Jim until that job was finished back in Christmas time of '82 and I remember my first thought with great clarity. It was along the lines of: Good GOD, I should have bought better rods and rockers. His Corvette received normal service items here and a couple of clock overhauls too. The engine did go through some dark days more than a decade ago when it spun it's harmonic damper and was mis-timed and out of tune, ran hot, and rough and burnt oil. It wasn't fun any more. I couldn't get it right "by the books" and tuning it by ear didn't work out either. It was my first combined experience with excessive compression, diminished fuel octane, and valve covers pumped full of oil all the time. For a long while I thought I had head problems or a leaking offenhouser intake manifold. After those possibilitys were ruled out I took a chance and reduced the engine oil pump capacity, improved the oil return path, and switched him to 100% race fuel all the time at proper ignition timing. The engine immediately ran much better (and better than in '82) and "healed up" within a few months. So that, plus adding a power steering retro fit kit a couple of years later was exactly the right thing to do. It must be working. See his smile?