Machine Shop Projects

Saturn Twin Cam Flow test and manifold boring. This Bay Area customer wanted as much power as possible for a street racer project in 2003. His plans were for a turbo / nitrous injected setup. He wanted me to find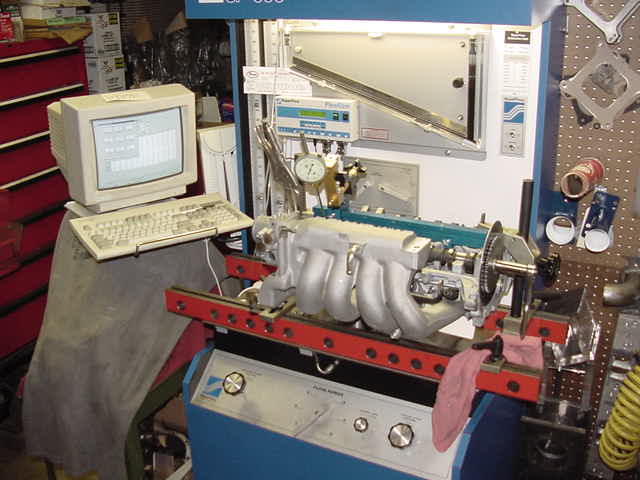 restrictions in the intake system that might prevent full power from developing. It turned out the head and cams were OK for preliminary efforts with modest rework but the manifold was a much bigger problem. I bored the manifold to 55.4 mm and blended the opening to the plenum to match a bigger throttle body he provided. I was ready to go back to work on the head when he totaled the car and then canceled this projects development.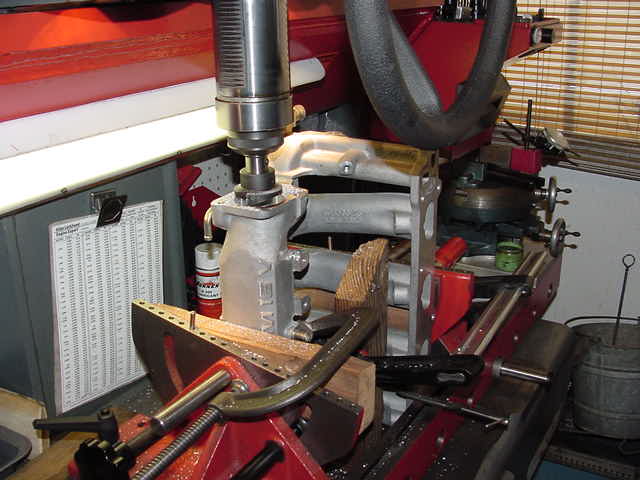 This looks like a very powerful head design. A solid tappet conversion was worked out that removed 28 gms of reciprocating weight and a new valve spring designed that should let the engine go to 10,000 RPM. The head, manifold, new parts, throttle body and project notes were sold to Brian in Florida for his street racer project in 2008. I hope he finishs it and has some fun.

TVR 2500 / TR-6 Engine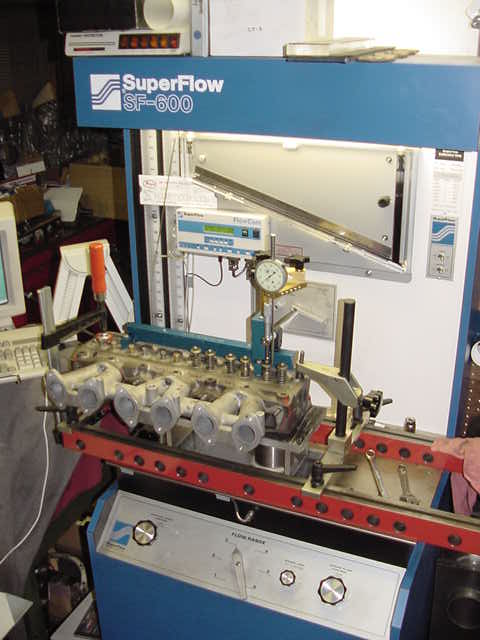 Dana wanted to "freshen up" a TVR sports car and ended up dismantling the whole vehicle. His engine had been rebuilt but didn't perform well and used oil so that part of the project came to me. This TVR uses a Triumph 2.5 liter engine so there is a well known body of high performance technical information to couple with a physical inspection of the engine's shortcomings. In the short block he had worn out pistons, camshaft, and tappets. The crank was nicely reground and bearings almost new. However the camshaft bore was worn out which is a major problem requiring line boring and fitting with TR-4 insert style bearings. He wanted more power so I started to examine his head and found worn out guides, valves, springs, and huge combustion chambers. Dana wants to go vintage sports car racing so we decided to rework every aspect of his engine. The crank was very heavy and a stock flywheel gave new meaning to the term rotating mass. I lightened his crank and rods then used an aluminum racing flywheel to take about ten pounds off those components, perhaps more. Because he is planning to use an RPM limiter stock rods were retained and rebuilt. OEM style flat top pistons were selected because of the combustion chamber style. His head received a lot of work. The Cannon manifold locating pins didn't register correctly and the runners were a bit off so those parts were match bored, ported, re doweled, then thermal barrier coated inside and out.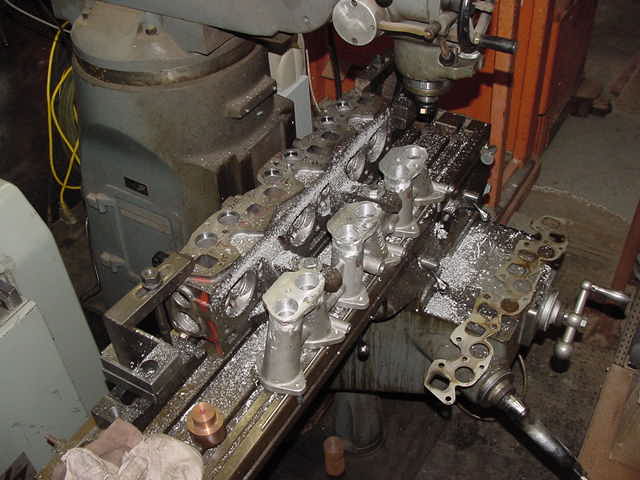 I then ported the head and removed nearly all of the exhaust guide hump and guide extension. The intake side was also ported in a maximum way while paying close attention to minimum material removal and creating equal runner volumes. Final flow testing was done with a finished manifold, dummy air box, and Webber carburetors in place. Intake flow is 125 cfm @ .530 lift @ 25". Intake runner volume is about 211cc's up from 196cc's when stock (valve to carb inlet face). Exhaust flow is 102 cfm @ .545 lift @ 25"(with a short head test pipe). Thermal barrier coated headers were prepared for the TVR chassis identical to TR-6 factory racing designs.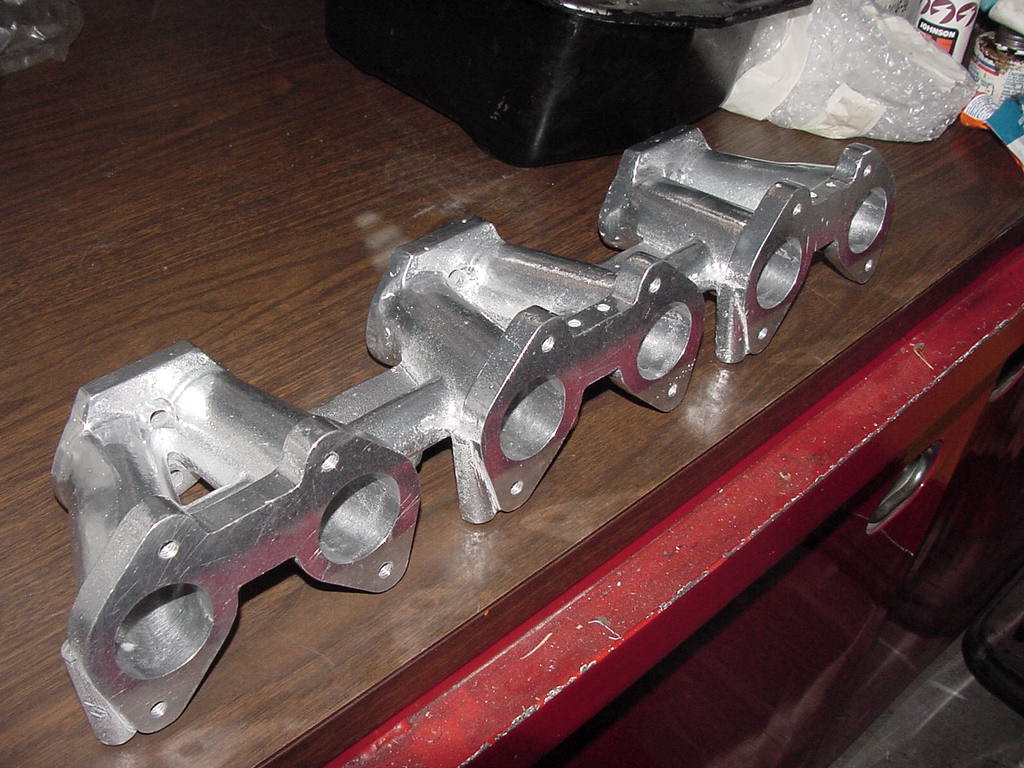 I contacted a cam bearing manufacturer, Dura Bond, and was referred to Silver Seal to have tooling made to line bore the cam tunnel. That saved his block and correct serial numbers. It also allowed higher spring pressures because of improved bearing surfaces. Dema Elgin ground a new blank camshaft to match the heads airflow and engine displacement. That was a "best effort" product because available cam blanks don't allow much variation for timing changes. Effective compression ratio can be adjusted between 6.7 and 7.0 to one depending on inlet valve closing timing being set between 68 and 64 degrees. An adjustable cam drive was obtained with other high quality parts and fasteners. Titan roller rockers, Isky racing springs, retainers, Smith Brothers light weight custom push rods 8.100 long and many other details were attended to. Compression ratio was increased to a little more than 8.7 (calculated from actual volumes and dimensions) to one (static) by block decking (-.040") to achieve negative deck height (+.047") then clearance was machined into the combustion chambers after cutting the head deck .065". A special .022 thick head gasket was made. That overall approach allowed minimum material removal and retained maximum deck strength. It will also make the engine very easy on it's stock rods and fuel octane requirements. Tappets were Rockwell tested, radius ground and modified after cherry picking from several sets. Valve springs were selected from two sets and shimmed carefully. A baffle was added to an oversize cast aluminum oil pan and notched for rod stroke clearance. Presently ( July 2006) we are looking for an NOS oil pump drive gear and are waiting for a special valve cover to be cast in England to finish this project. I figured out these modifications on my own over about two years time after getting a list of issues to think about from Dema Elgin. Dana kept saying it all sounded good, then he showed me Kas Kastner's preparation book when we were near the end of our build up. Talk about validation!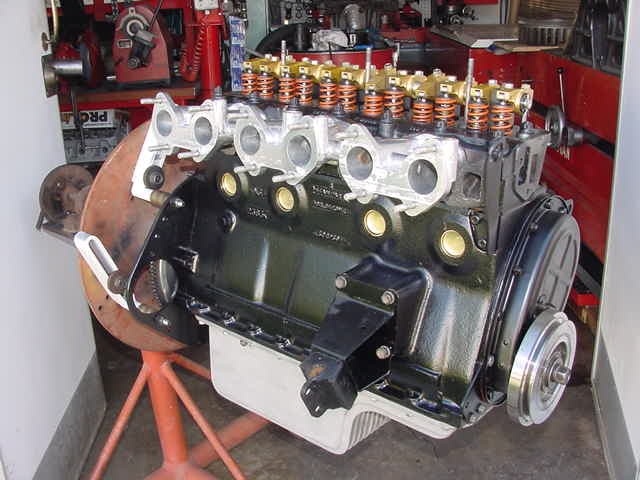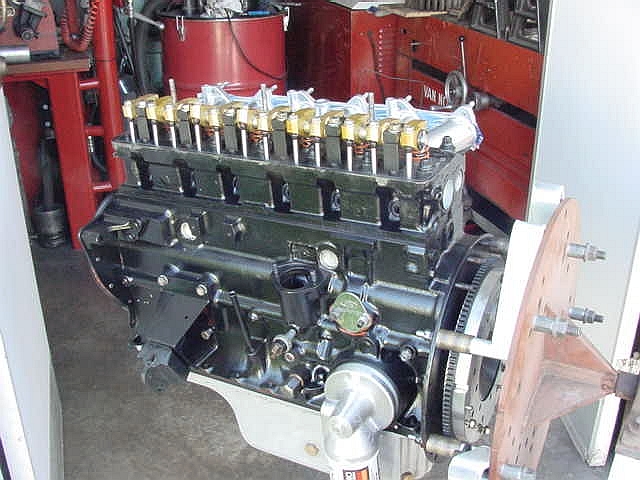 Jeep Engine Block Machining. This flathead GPW Ford block was sleeved, bored, and had the guides replaced before being ready for conversion to hardened seats and getting a valve job. I had to consider it just a "large" cylinder head and strapped it to the table of my Serdi machine. It just fit and turned out well. Then the crankcase was crack repaired and cleaned for assembly in 2005.

These are two engine projects done in 2001 for different customers with two different goals.
The orange Chevrolet 454 is going to be installed in a 1968 El Camino. Pat bought his El Camino new but did not have resources for the engine option he really wanted back then. Now it is a little easier for him so he is having a frame off restoration / modification process done to build a street cruiser for Hot August (and a few other) Nights. This 454 is mildly cammed and has modest compression increases. The valves are bigger and pocket ported. The valve train is modified for endurance. It has a modified oil pan and windage tray. There are many detail and blueprint improvements and some changes to lighten internal weight. His goal is smooth torque and quiet, easy running when coupled to a turbo 400 transmission.
The blue Ford 302 is for an older Bronco 4x4. Jon wanted about all the power he could get for off road trails and still pass California emission testing. This engine was stroked to 347 Cid and has light weight parts. It has been carefully clearanced and is fitted with trick flow heads and valve train parts. I designed a roller cam based off specific air flow and engine dimensions which Competition Cams ground. It has a modified oil system and sump in addition to a ported manifold. I modified the Bronco to accept coated headers and twin catalytic converters in a specifically designed exhaust system. I converted it to an electric fan with an over sized radiator and Jon lifted it 4 inches necessitating numerous small changes to linkages and general configuration. With an OEM Autolite 2 BBL carburetor and a full ERG, AIR, EVAP emission system calibration it produces amazing torque, about 300 ft lb. @1000 RPM which is held to past 4000 RPM. This engine can be put into high gear at 25 mph and will quickly pull well past 110 mph without a stumble, or ping, or vibration. In 110 degree ambient air temperatures it still runs cool and strong @ 8.58 to one static compression ratio. These were challenging, fun, and expensive engines to build but should give Pat and Jon years of trouble free service.