Vintage Car Work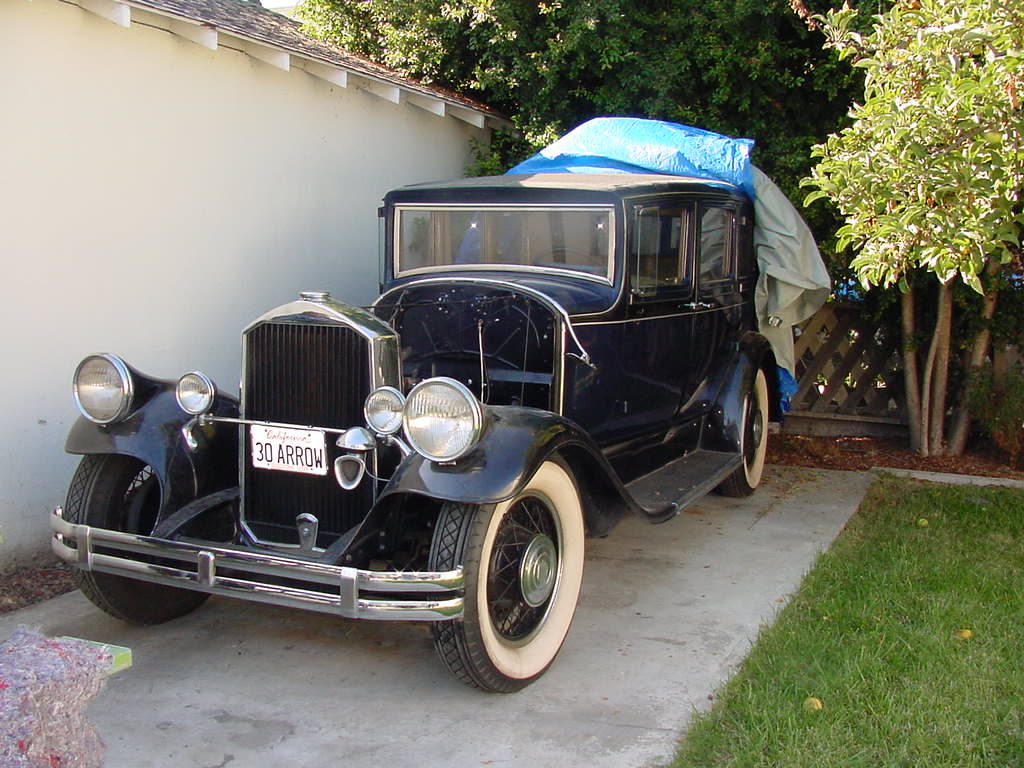 Bill found this car in San Jose about ten years ago or more. We had it delivered to his home then did some initial service work to get it running better. Because of interests and calls in other areas of Bill's life his Pierce Arrow went back into storage for several years. Bill kept learning about his car and buying parts on eBay (a lot of parts) until his time demands allowed us to pick up where we left off. The engine had a blown head gasket and Bill worried about the stock oil pump exploding (made from pot metal and a known weak link) so I had him obtain a replacement brass pump and made a new pump drive. We changed the head gasket and I surfaced his head. I thought there was something wrong with the gasket fit which turned out to be a mismatch between engine and head series. We've put it back together while he looks for a correct head (a correct spare came with the car, but it's in very poor shape from a prior crack repair). I also gave the engine a minor tune up. Bill changed his fuel tank and lines, ignition coils and tires. I redid his steering and clutch adjustments. There is always a part of Bill's character that wants to Hot Rod anything he owns. Somewhere along the way he found a two BBL manifold and then bought a bunch of updraft "U" and "UU" series carburetors so I could to try and assemble a working combination. I cannibalized a half dozen carburetors to perhaps build one serviceable unit. It is heart breaking and expensive to have to winnow through boxes of junk to find a couple of decent parts but that is the vintage car restoration process sometimes.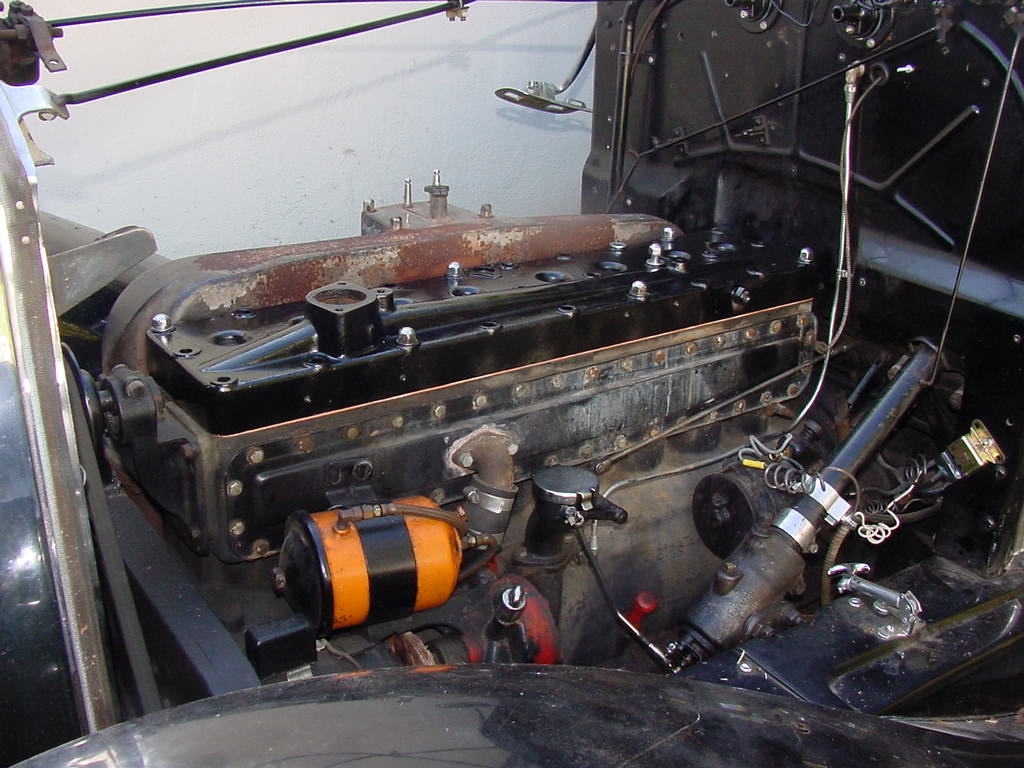 The 2 BB manifold was in poor condition; having cracked porcelain and significant warp, a frozen heat riser and excessive corrosion.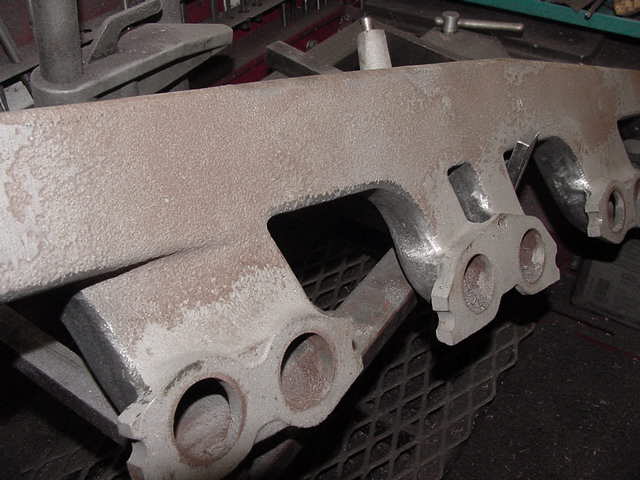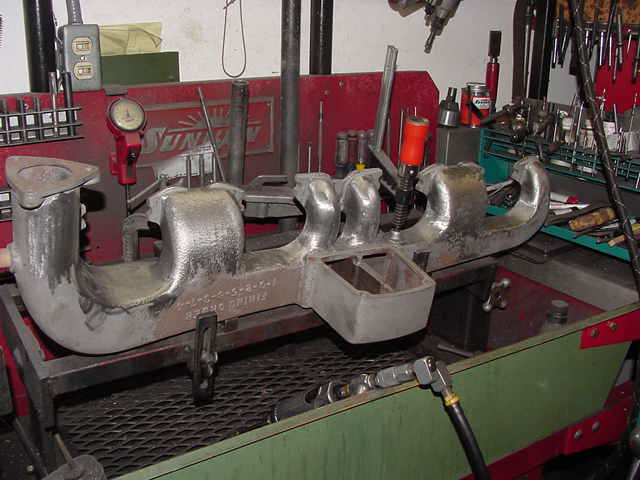 To restore the manifold I sandblasted it, then used porting and polishing techniques on the exterior surfaces to prepared it for being re-coated with new porcelain. Old cast iron is very brittle. With this two piece manifold (separate intake and exhaust castings) alignment when machine work is done becomes critical. Several cracks appeared during the restoration process so I determined to stress relieve both castings and straighten them as a unit, and weld repair the exhaust at the same time. Then I'd re-evaluate machining. I fabricated a very heavy (about 65 lbs) restraint bar with steel dowels to simulate mounting alignment locations. Then I added bolts to restrain manifold movement in "wrong" directions while allowing movement toward being flat and correctly aligned. I delivered the whole manifold and fixture to Gary and Guy Reed at Lock-N-Stitch in Turlock, CA. for preheating, welding, and post heating at their facility. They did a great job so I finished porting inside, made a new heat riser shaft bushing, a new gasket pack for the plenum, and did a final fit of the manifold sections. I then machined both manifold faces in one set up. I'd contacted Tom Sparrow at Prairie Auto Porcelain (17250 Cannon City Blvd. Faribault, MN. 55021. Tom's cell is 507-581-9887) about re-firing Bill's parts so they were ready to finish the job. I shipped the entire manifold and assembled restraint bar to use as the manifolds were porcelain fired. It came back looking wonderful and straight as an Arrow. We also thermal barrier coated inside the manifold surfaces to prevent heat from entering the old iron. This job was really expensive but Bill feels it is a rare part, so justified.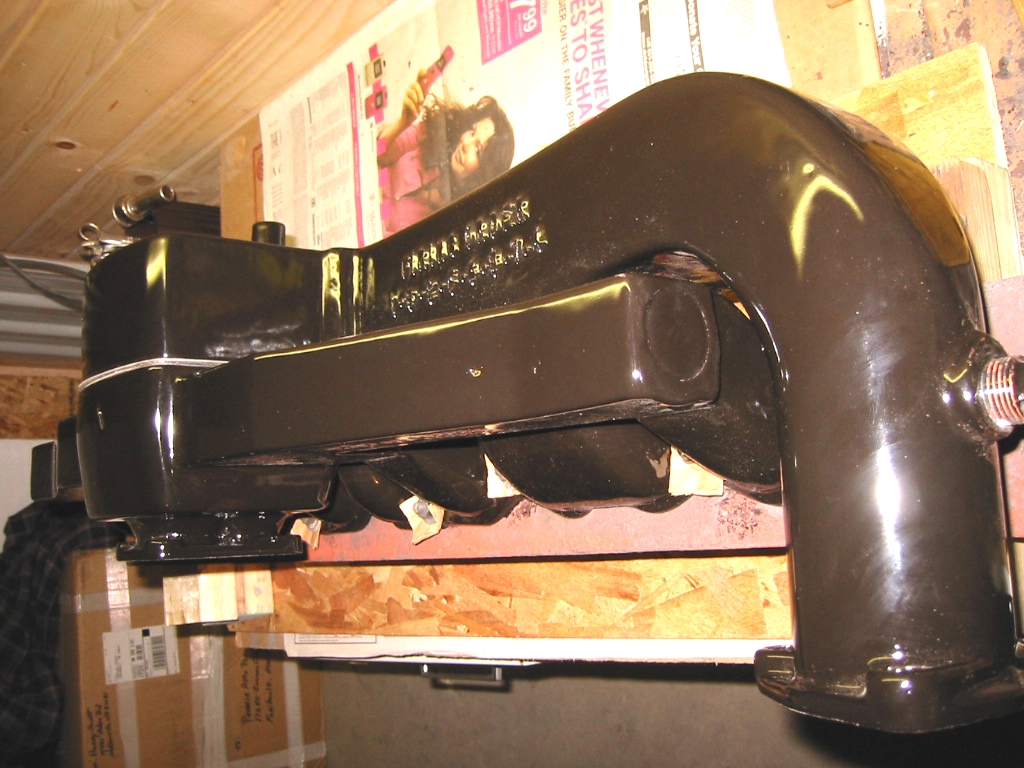 .

Bill has moved out of the area and made arrangements to disassemble his whole car at his son's shop to repair interior damage and prepare it for club and show uses. This manifold will be stored until used in it's final assembly.

Tom is a collector who likes to drive and use his vehicles. He has various automotive interests but likes 1930's to 60's vehicles. This Cadillac reflects restoration work in other shops before it came into Tom's garage. Tom wanted to freshen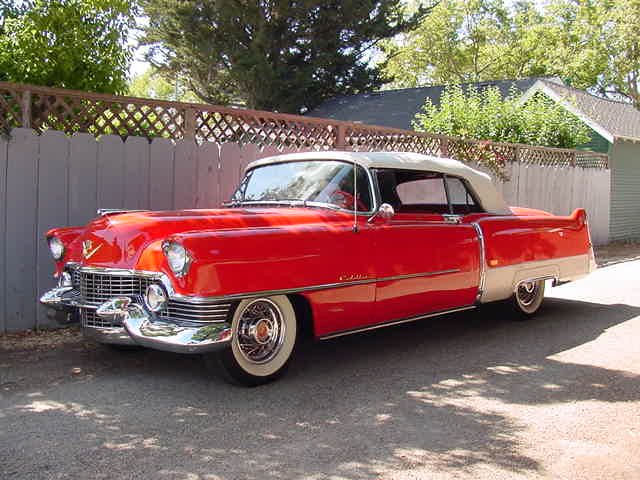 the car's looks and correct minor deficiencys so it would be fully functional for daily use. He has an interior man, and a paint man, but needed me to do a gig list of about twenty mechanical and electric items.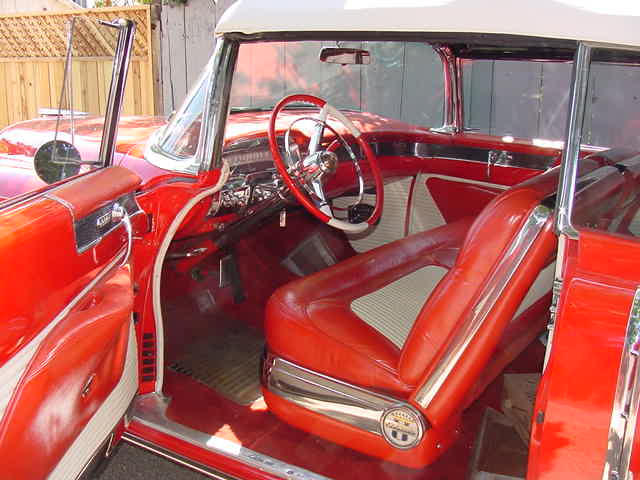 The car became registered for the Palo Alto Concors 'de Elegance and then was selected to be the "cover car" on the show programs. Cadillac was the featured mark that year so suddenly some pressure was on to make this car as nice as it could be without redoing anything in a major way. I was tied up on other projects and nearly didn't do my part in time. As it turned out I did my mechanical and electrical repairs after final detailing was complete. That was nerve wracking because I had to work under the dash, undercarriage, and hood without soiling or disturbing anything I couldn't re-clean or re-adjust.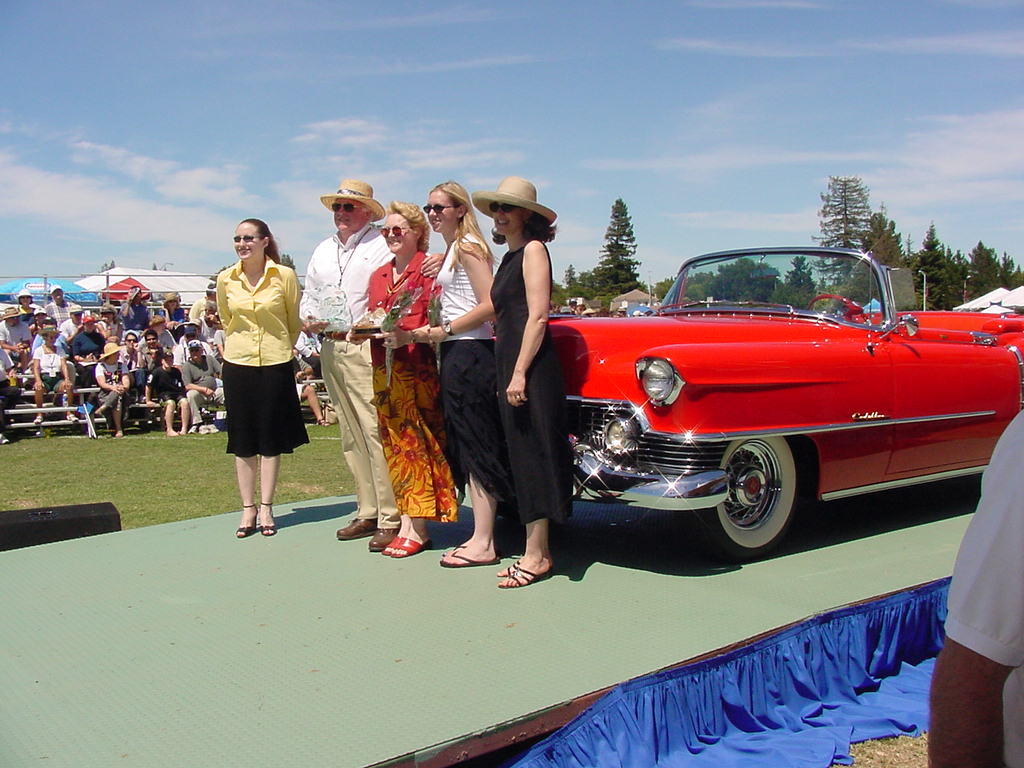 I finished the day before the show and had an evening to drive around and enjoy this wonderful piece of automotive history. Tom invited me to the show to be available for any last minute issues and see the judging committee work. I had an unlimited pass so this photo was taken from behind the awards ramp looking out of the patrons tent. Tom received the Manufacturers Award Trophy and Best in Class Trophy with his car that year. He kept it for awhile and I did some service work on it before it was sent on location for a movie shoot. One of the movie crew fell in love with it and after buying it from Tom exported it to Belgium. We hear it is quite popular over there too.


Leo's 1935 Ford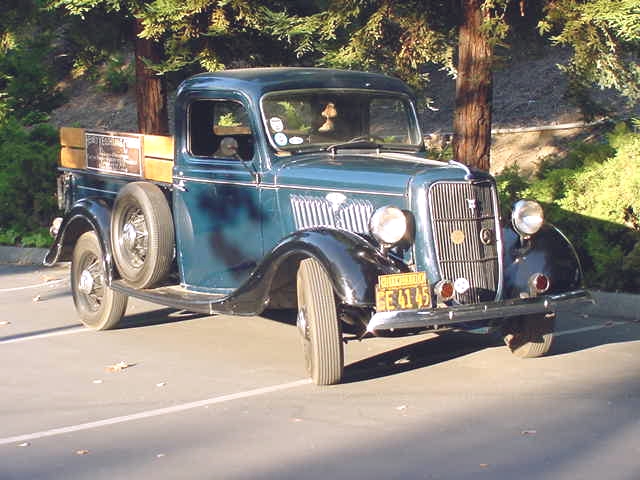 Leo is a really nice fellow. He's quiet, knowledgeable, has a great sense of humor, and loves restoring old farm equipment, pre-war aluminum trailers, and Bugatti's. He drives and uses nearly everything he works on so when he wore this pickup truck out it was no surprise to the friends who know him. Nor was it surprising when several of them helped Leo take his truck apart for restoration and "up dating". They are a great bunch of guys having a good time in their retirement years. Soon a great used engine was located and checked out and set into place. The chassis was worked over and some accessories, lights, horns, and an electric fuel pump were bolted into place. Then Leo called me and requested time in my shop so I could convert it to a 12 volt, negative ground system..... It turned into a rather complete re-plumb, re-wire, vehicle assembly project because almost all prior assembly work which had been done was more on a "trial fit" basis rather than "finished". Some items of special note are an override circuit to engage the fuel pump to prime the engine after prolonged parking and a shut down circuit if the oil pressure fails. His truck has thermal barrier coated headers and thermal insulation on the cab floor. Leo wanted a sound deadened cab so acoustic matting went into the headliner, rear cab, and under dash area. We wanted a "clean" firewall look so many components that had gathered there were relocated under the dashboard. His flat head is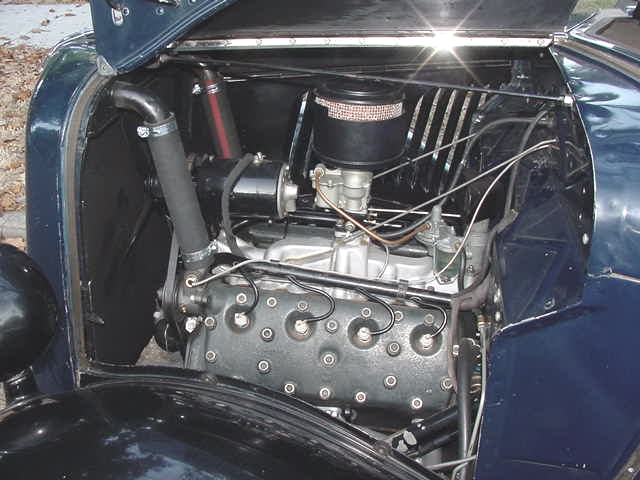 mildly warmed up with dual exhaust pipes, an aluminum manifold and careful selection of internal parts. I added an external oil filter remotely mounted under the left hand fender behind a custom rock guard / splash shield. The truck still has mechanical brakes and an original transmission, drive shaft, and rear axle. Leo tows a small trailer to various meets and shows all over the state and nearby out of state locations.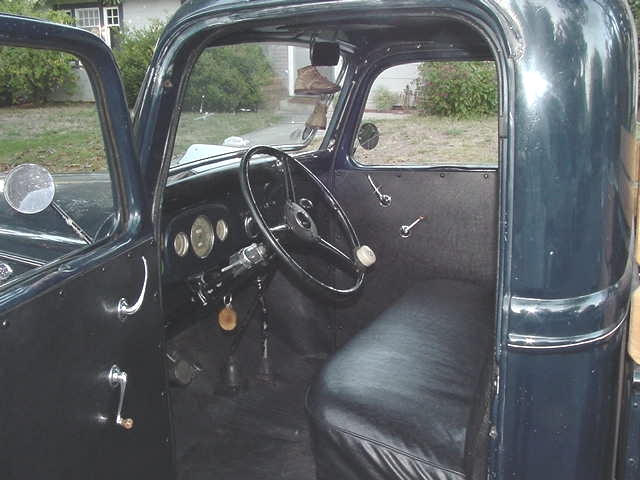 His daily use of the truck makes cosmetic issues secondary to functional ones. It makes quality repairs, adequate vehicle inspection, and complete service mandatory. Just like in the old days.

Race boat "Miss Comet"

This is another one of Tom's interests, old wooden boats. He has several and this one was rescued from the fate of disuse and decades of prolonged storage. His family and craftsmen from Sierra Boat Works, Lake Tahoe, CA. worked many, many hours to refinish the hull and restore original fittings. The history of the boat as a racing design with unusual center steering and dual aircraft throttles is distinctive. After restoration the boat was entered in the annual competition at Lake Tahoe and took first place. However it had several functional issues. The 6 volt electrical system had been retained and after winning the Tahoe show Miss Comet was again unexpectedly stored a couple of years. Tom wanted to start using the boat again for the summer of 2004 so I was asked to get her running, figure out why the electrical system kept failing, and service the engines for a seasons trouble free boating. Miss Comet has twin vintage Chrysler Hemi engines and differential throttle steering for low speed maneuvering. Then the throttles are locked when the center rudder becomes effective at high speed. Cooling water is pulled from the lake. Wet sump oiling and wet manifolds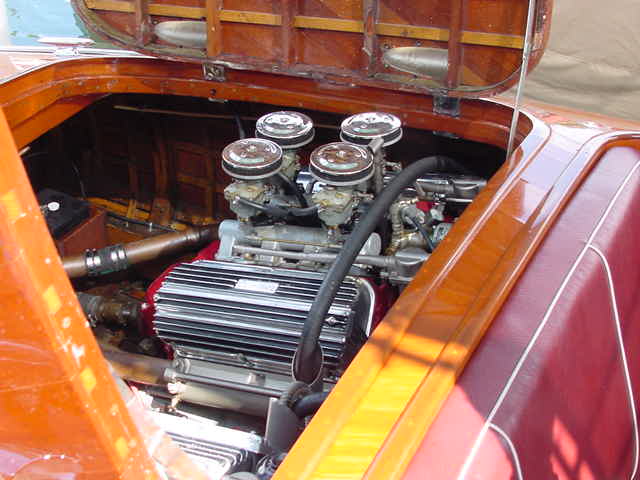 are typical marine equipment. Because the men who rebuilt the engines and installed them in the hull died just after completing their work details like water and fuel drains, electrical circuits, fuel management provisions and procedures for dry dock testing all had to be figured out by inspection. It turned out the boats fuel pumps had an in line restriction in one pump and a suction side air leak in the other. The batterys were of insufficient ampere hour capacity to start a warmed up Chrysler and the generators were geared too slow to recharge them. That had lead to the regulators being miss adjusted. A small water pump leak that kept the keel area wet had deteriorated two electrical disconnect switches hidden under the hull ribbing spars. It was quite an adventure to figure out which problem was the pivotal problem preventing the boats operation.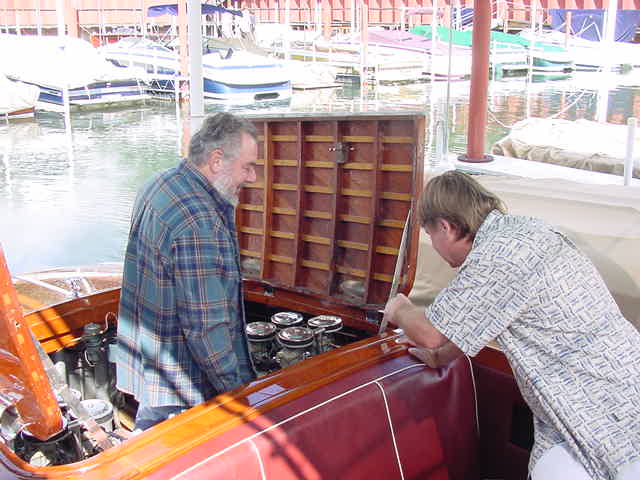 Gary Hubback and I worked out a cooling system modification so we could fire the engines while the boat was trailered. We wouldn't run the props or transmissions because Miss Comet's hull changes shape if not wet and floating causing prop shaft angles to exceed design limits. My son Daryl and I figured out the fuel system and finally fired the engines. Then trouble shooting the generators and batterys was pretty easy. I fabricated period correct battery boxes for industrial sized batterys and fixed the various switches and connectors. I replaced a few things here and there while waiting for new generator pulleys. Eventually the boat was ready to re-float and go on shake down runs. We made a long weekend trip to perform those adjustments and took the first photo in this set while leaving the harbor area of Serra Boat works. Unfortunately a bad transmission kept us from approaching the boats top speed. I hear it's a hair under 100 mph. A few months later the transmission was fixed but the season was over by then so Miss Comet went back into storage. She was sold in 2006 to an Eastern buyer.


1949 Ford Convertible. Tom knew of this car for a number of years before acquiring it from the east coast. It was restored back there and came here with a fairly short completion item list. It is a V-8, radio, heater, manual transmission convertible that has remained very stock. Gary Hubback serviced the brakes and suspension at his shop. After that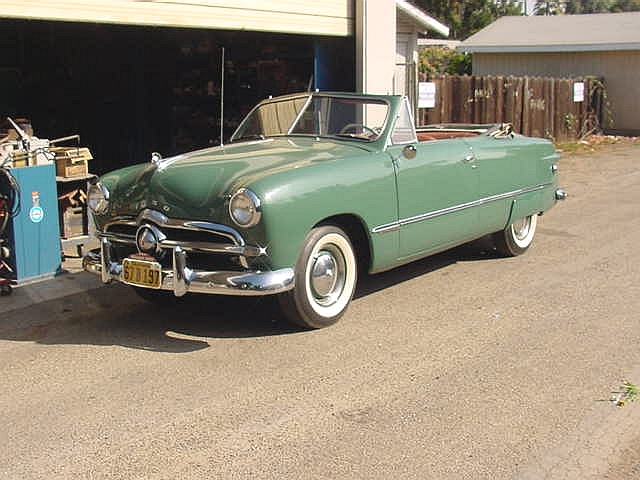 Tom asked me to repair the drive shaft, replace the transmission, and rebuild some items under the hood. I detailed the Flat head engine and re-plated a few brackets and throttle linkage parts. Overhauling Tom's convertible top pump was a bit more challenging but turned out well. I also rebuilt the shift linkage, installed a few missing bolts, and stamped a new ID plate for his firewall. I repaired his trunk lock / handle / latch assembly while keeping the original key. I mixed up a bottle of touch up paint for future use in case door nicks occur. It was a fairly typical potpourri list for a newly acquired vehicle.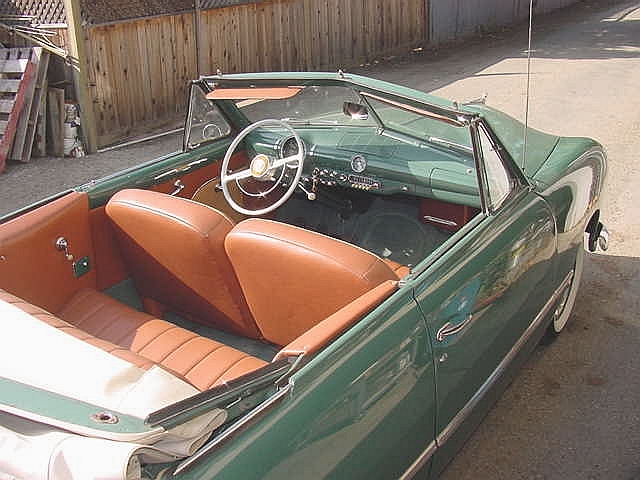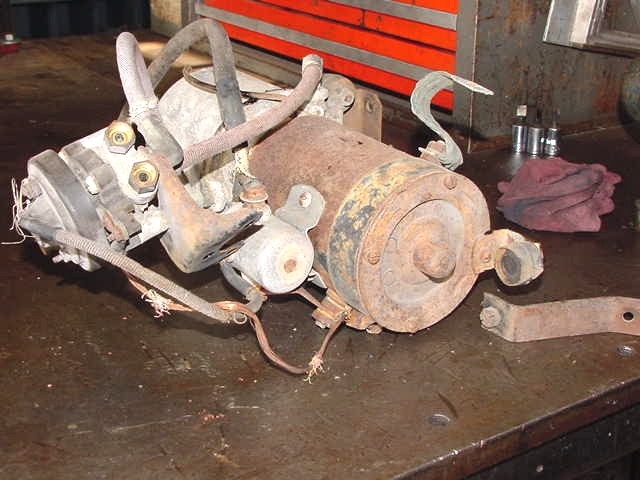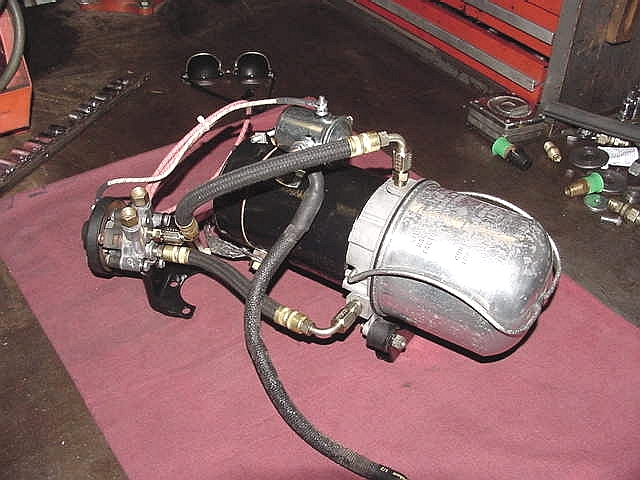 These are photos of the convertible top pump before and after rebuilding. Quite a few small parts were located at HYDRO-E-LECTRIC in Florida and installed here. We were lucky that the switch assembly cleaned up as they are quite rare. Royal Brass in San Jose, CA. made new hoses with fittings similar to OEM . An N.O.S. transmission assembly was found at All Ford in Campbell, CA. still in the original crate.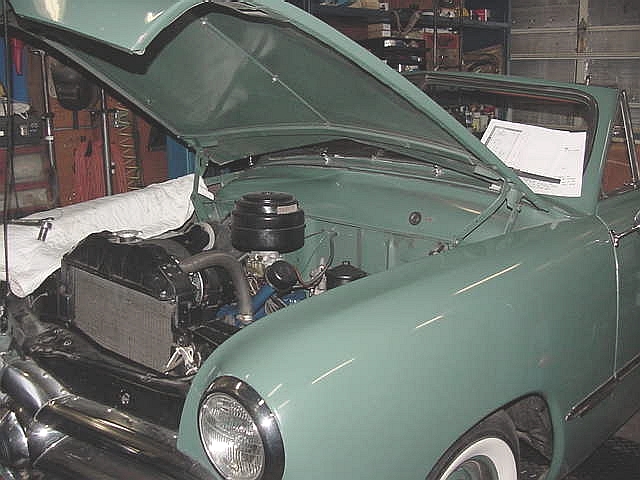 This shoe box Ford's under hood area looks just as nice as the vehicles exterior. Somebody had already started with late model Ford "blue" paint on the engine so we stuck with it. The blank area on the left firewall is where Tom's top pump mounts. It is a fully rebuilt pump, but non-functional in this installation because of the risk brake fluid might leak and ruin adjacent paint work. A new style after market pump has been mounted in the truck to actually operate both convertible top hydraulic cylinders. I've driven this car quite a bit. It has very comfortable seating, easy steering, and adequate power. It is easy to understand why it was such a sought after car when Ford started production of them after WWII.




1932 Pontiac Convertible. This is the last of Tom's cars I'm going to post. It's a Pontiac he keeps just for fun and he drives it on sunny days to work or on errands. I've done some regular maintenance, a few repairs, and modified a couple of items for him. An interesting item is the windup clock in the rear view mirror.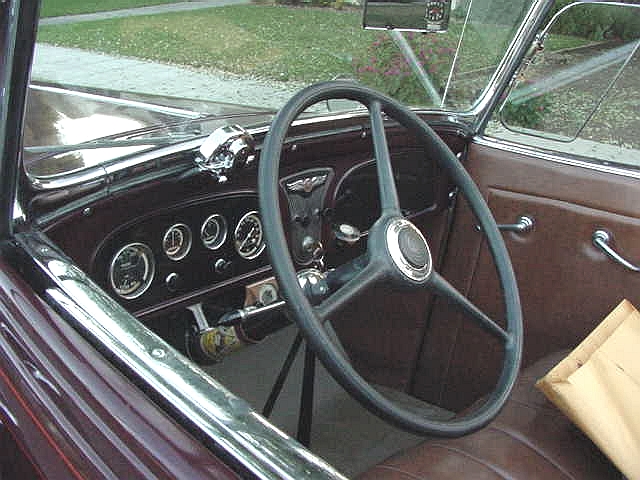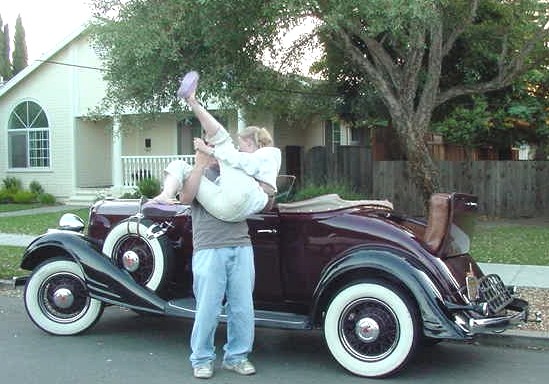 I reproduced the Indian Head nickel shifter ball for this car and added the side glass wind deflectors for Tom. This car is equipped with an original drive train, radio, heater, and "touring" items like wipers and turn signals. The rumble seat frame had been upholstered upside down and latch assembled incorrectly. That was hard to figure out, but when done right allowed my son to install a girl friend in the rumble seat. This is a pleasantly intimate car when the top is up. It is a car in which one can sit well and drive very easily.



Radiator Cap Hood Ornaments. These hood ornaments represent about four years of collecting parts and pieces by the owner from various auctions, club functions and museum sales. My task was to fabricate functional radiator caps from his parts then mount ornaments to the caps.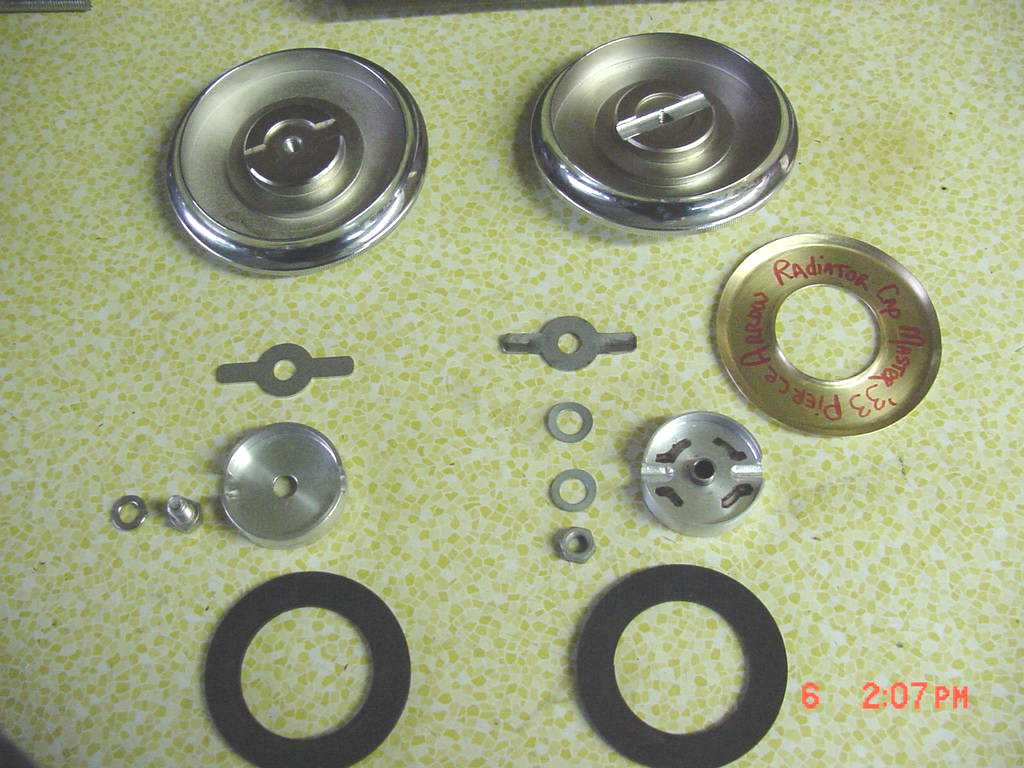 A purchased reproduction cap had the parts shown in the left hand column. I made additional parts and modified the supplied ones to create a cap that would actually work. Those part are shown in the right hand group. Stainless steel hardware was upgraded to improve longevity, a spacer sleeve controlled clearance between two wave washers which allowed the cross arm to "float" improving engagement with the radiator's filler neck. The cross arm was forged to increase its arm strength and a radius profile added to the leading edge for better engagement. A brass gasket support ring was fabricated to center and provide appropriate gasket compression. The centering body was turned down to match a specific radiator filler neck size. Then the cap tops were center drilled to allow a threaded mounting stud to protrude above the cap. In all, about five hours of work per cap, or a bit more.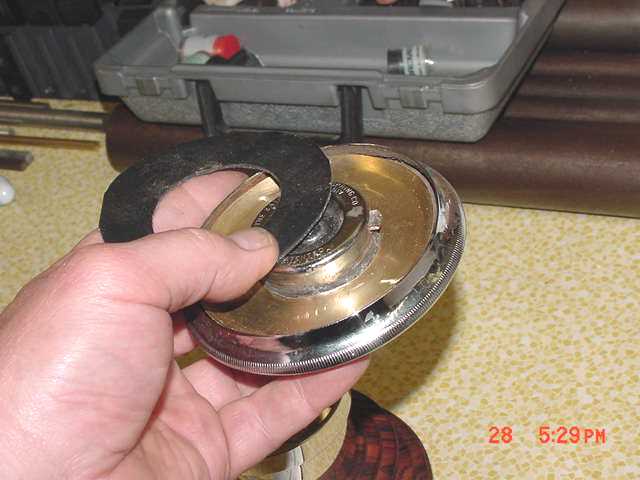 The right hand photo is of an original cap that was rebuilt with my "extra parts". These had to be hand fit to the center because several different dimensions for various makes exist. Then work to various mascots began. This is an old metal cast version of a Lalique art deco piece titled "Vitesse" a personification of speed.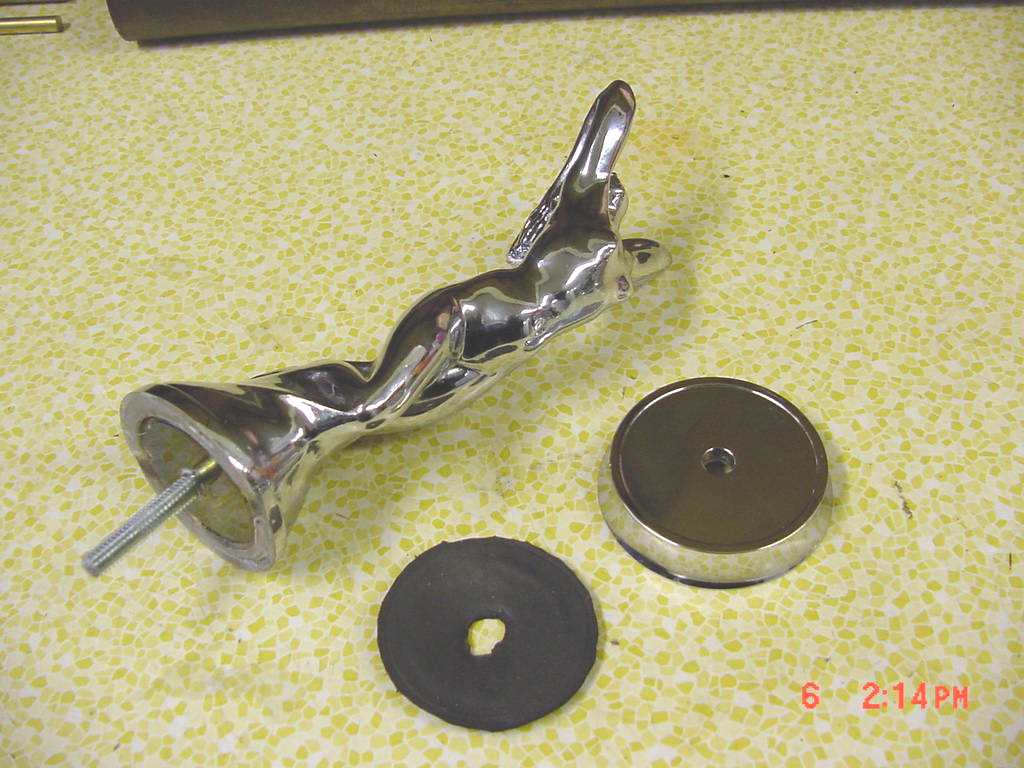 In this case two small mounting screws were damaged and bent beyond usefullness so they were removed and a single larger stud was cast into the statue on her centerline. The statue base was milled flat and an adapter ring obtained to adapt that flat surface to the radiator cap crown. A rubber foam gasket was cut to provide sealing and a cushon for the assembly. The mounted statue was then shipped to the owner who indexed it to his radiator filler and installed a locating pin I provided so in subsquent use it would remain pointed forward.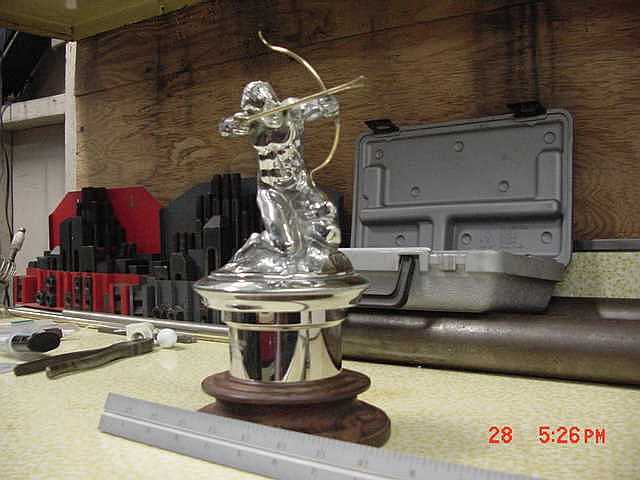 This bowman is an orgional 1933 Pierce Arrow mascot. It had a corroded mounting stud and minor damage that was corrected before it was mounted on a cap.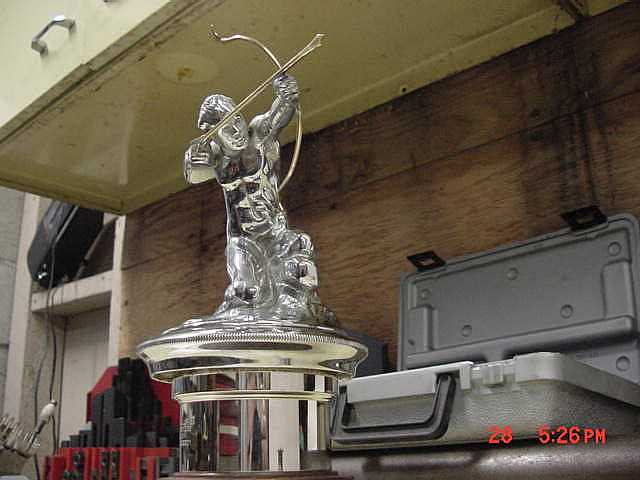 It's base conture was correct to match a radiator cap crown so no adaptor was installed. It is displayed here resting on a Lalique base for photographic stability.

The next hood ornament shown below is a 1929 Pierce Arrow piece. It had been broken at the bow arm wrist extension and repaired with soldered potmetal then chromed over. Not very pretty, and the bow was gone. It needed difficult and risk filled repairs. More importantly any method to mount a bow was gone too. I removed most of the old repair and reconstructed part of the finger detail with solder. I was able to drill a mounting hole for a reproduction bow and arrow in the fist and install them with clear epoxy. Not a perfect repair but much better than it was and now quite presentable for a parade or motocade vehicle.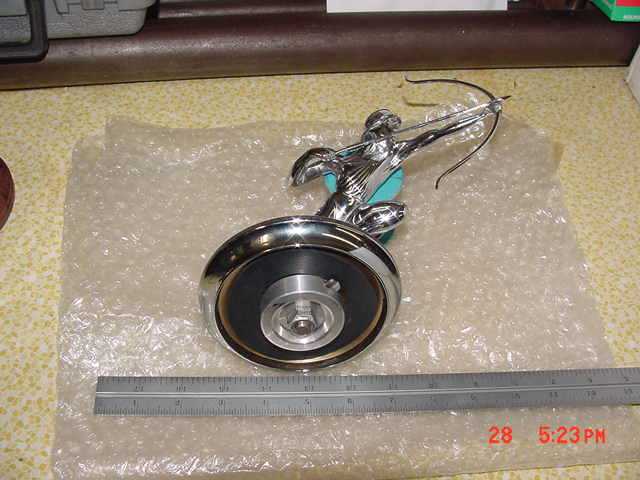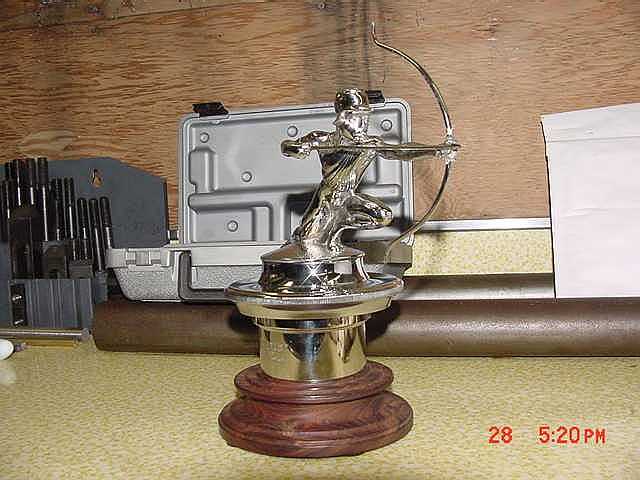 The last two mascots are reproduction Lalique items from 1928 titled "Victoire" and "Peacock Head". They were provided to me with original style mounting rings and a museum display base. My job was to fabricate illumination hardware and functional radiator caps so they could be fitted to a vehicle. By making parts similar to the ones used for the metal mascots both these tasks were completed in 2008-9. I believe both of these mascots will he shown at the Pierce Arrow west coast national meet in 2009.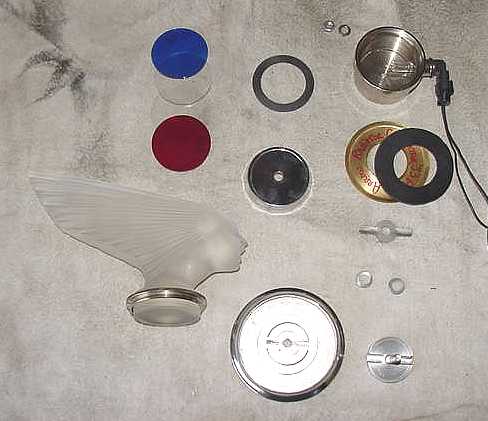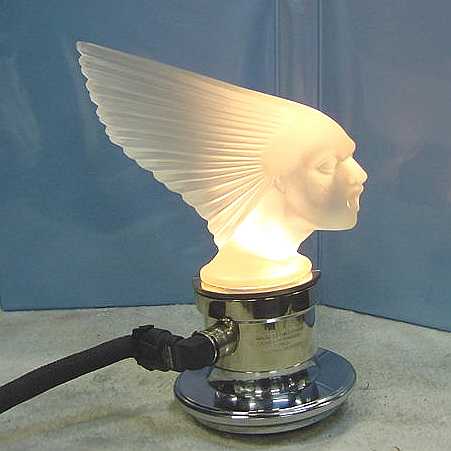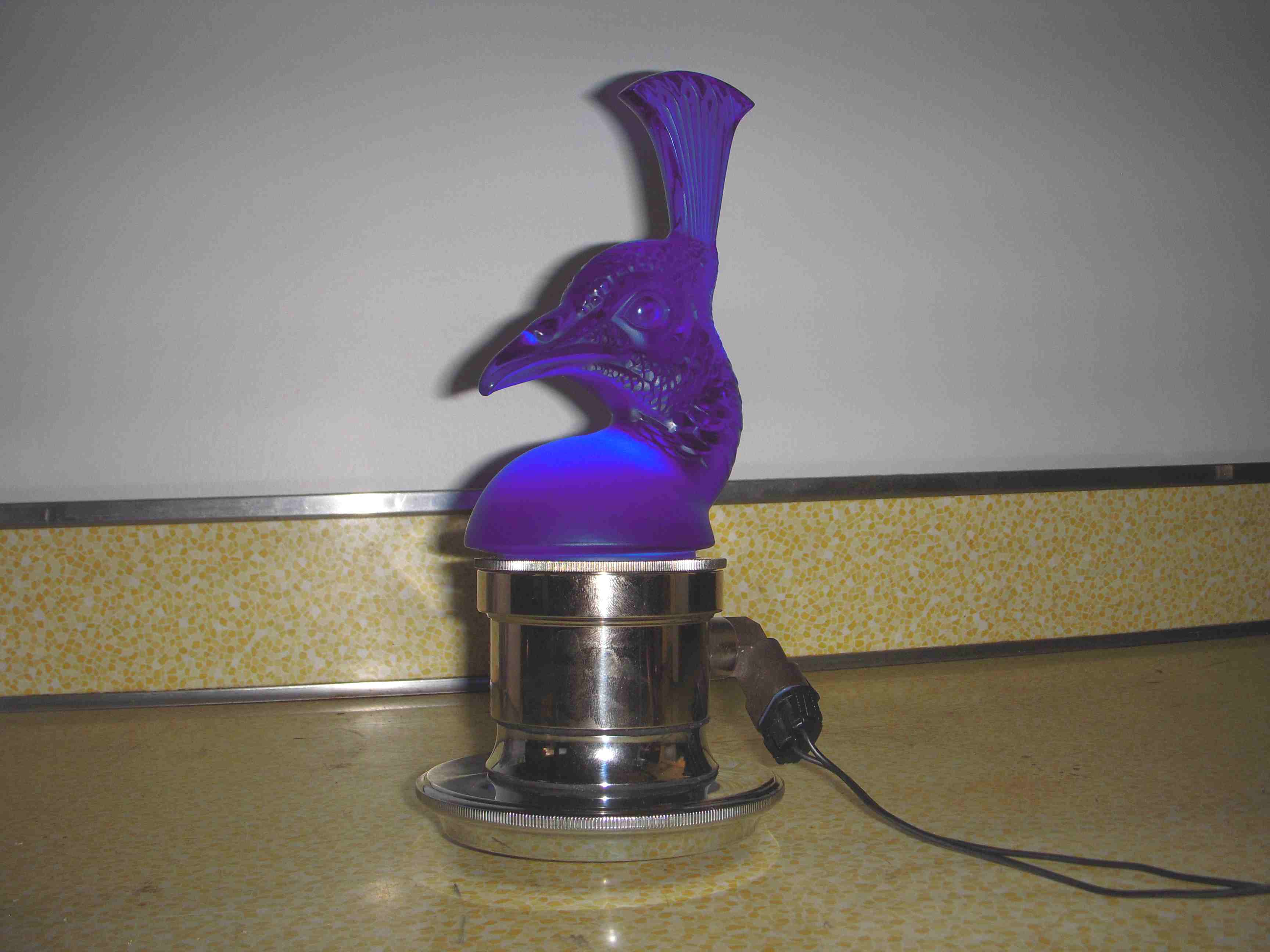 Back to Fowler Main page